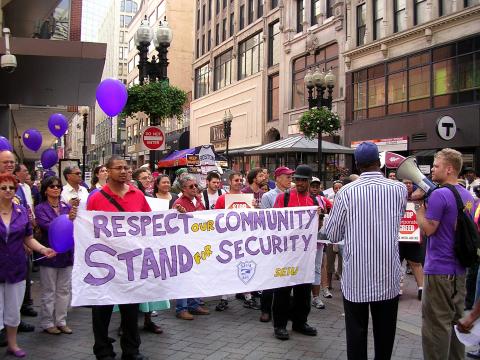 SEIU Local 615 Security Officer March Targets Non-Union Palladion Services
1 August 2008 - 5:58pm
|
jpramas
by Jason Pramas
BOSTON/Downtown Crossing - Over 100 unionized security officers and labor allies joined ununionized security officers in a march yesterday to demand that the non-union security company Palladion Services recognize Service Employees International Union Local 615 and bargain a union contract with their workers.
The event was part of an ongoing campaign by Local 615 to organize 6 area security companies - 3 that have already recognized the union (Allied Barton Security Services, Securitas Security Services USA and Northeast Security), and 2 that are scheduling informal meetings with the union (Apollo Security and USI). Palladion is now the only holdout. The Local 615 effort is part of a national security industry organizing campaign by SEIU called "Stand for Security."
The march started with a quick prayer in front of Macy's department store on Washington Street and proceeded to two nearby buildings that contract security officers from the High St. based Palladion.
"Security officers work hard to protect Boston's most expensive real estate and we deserve to be treated with respect and dignity," security officer Robinson Thegenus, a member of the bargaining committee negotiating with the unionized employers for a first contract, said during the march. "Boston's security officers are working hard to improve our wages, benefits and professional opportunities. We will fight to make security jobs, good jobs – on behalf of our co-workers, our families and our communities. We are calling on building owners to not use security contractors that do not support good jobs for our community."
At the 1 Washington Mall building, unionized security officers delivered a letter to building management asking them to tell Palladion "to enter into dialogue with our union towards developing a fair process by which its employees could decide for themselves whether they wanted to form a union."
The letter was accepted by building employees and passed on to management.
A similar letter, sent via email to Palladion president Richard M. Primrose, stated that Palladion security officers deserved a "wage that will allow them to prosper, not merely survive and quality affordable health insurance that can provide access to care for themselves and their families." It also called on him "as a person of good will and leader in the security industry to join with other major players in the Boston/Cambridge security field and enter into a dialogue with the union to discuss a process that might ultimately resolve these important topics."
The union says it will keep the pressure up until Palladion comes to the table.
Neither Primrose nor other Palladion management responded to Open Media Boston requests for comment on this report.
License:
Creative Commons 3.0 BY-NC-SA