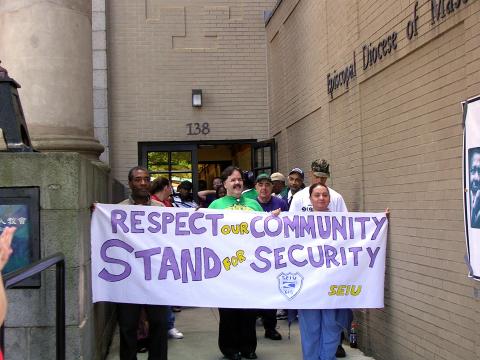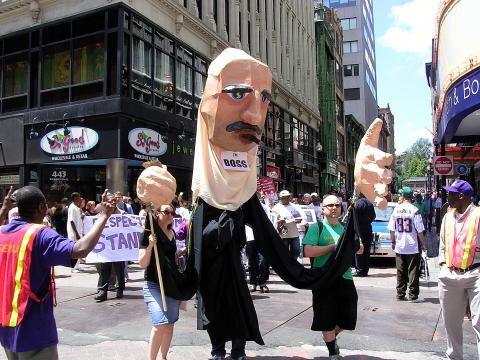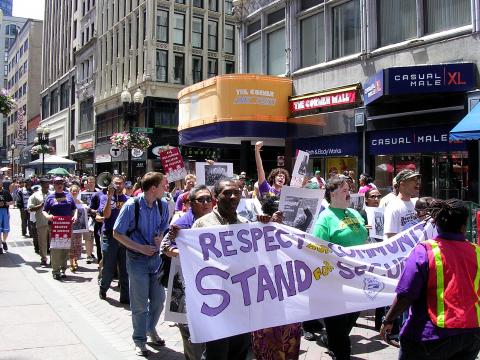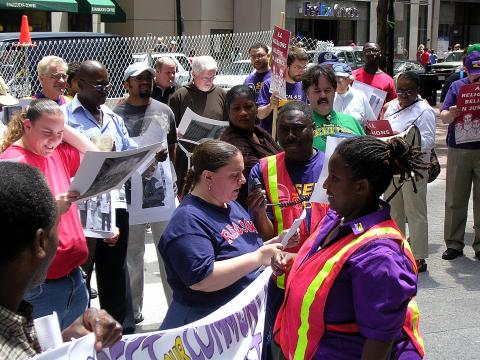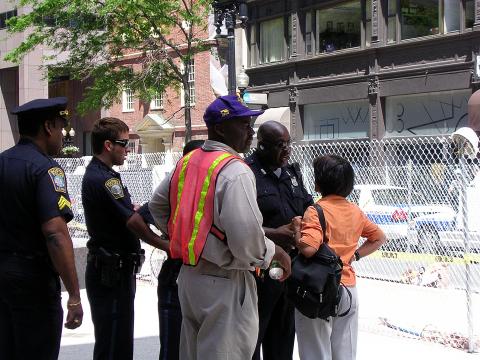 SEIU Local 615 Stands for Security with Downtown March Rally
24 June 2008 - 10:41am
|
jpramas
by Jason Pramas
BOSTON/Downtown Crossing - Last Saturday, 75 people attended a "Stand for Security" march and rally called by the Service Employees International Union Local 615. The event was part of a national campaign that is seeking to unionize security guards in several cities across the U.S.
In Boston, Local 615 is attempting to organize 6 area security companies - 3 of whom have already recognized the union (Allied Barton Security Services, Securitas Security Services USA and Northeast Security), and 3 that have not (Apollo Security, Palladion Services, and USI).
Before the event, 40 newly-unionized security officers came together to discuss and ratify proposals for their upcoming contract negotiations at the Cathedral Church of St. Paul opposite the Park Street T Stop. Most then joined the march.
"We're pleased the security officers from these 3 companies are joining with us and with other hard working men and women in Massachusetts to ensure that they receive fair and competitive wages and benefits and that their rights are protected," said Rocio Saenz, president of Local 615. "But officers working for three other, large security contractors - Apollo, Palladion and USI - are also in need of better wages and better benefits, including affordable health insurance, vacation time and sick time."
When the officers emerged from the church, the march began - led by a giant cigar-chomping puppet labeled "Boss" - and proceeded down Winter St. to Washington St. where the crowd briefly stopped outside The Corner Mall and lambasted Palladion Services for not recognizing the union with chants of "Palladion! Shame on you!"
The march continued down Washington St. to the One Boston Place tower at the corner of State St., and held a rally targeting Apollo Security on the front plaza of the building.
A short pro-union skit was performed by security officers, the puppeteers and some supporters, followed by a couple of speakers - including Rev. Laurel Scott of the Centralville United Methodist Church in Lowell, MA who said "This is about dignity for workers. This is about dignity for security officers ... The Church stands with you because you are people of God who deserve the very best."
A few minutes later, the Boston Police, who had previously been accommodating, informed the marchers that they were on private property and had to end the demonstration - apparently after speaking to building security.
Saenz debated with the police about the union's right to continue the protest for about 10 minutes while participants waited on a nearby public sidewalk. The police held their ground, and Saenz informed participants that the rally was over, but that the union would be back.
When asked for comment on the protest, Dennis M. Crowley, Jr., chairman and co-CEO of Apollo Security said, "We have not had any of our employees asking us to deal with the union or requesting any type of negotiation with the union.
"We feel that we probably have not had anyone do that because this company since it was organized 17 years ago has always offered above normal compensation to our employees. The union states that they are looking for better wages, health plan and pensions." Crowley pointed out that in addition to the wages and health plan, the company offers a 401K plan and other benefits.
"That's probably why we have not had any of our employees ask us to recognize the union," he concluded.
Lauren Jacobs, director of organizing for Local 615, responded, ""Mr. Crowley's comments are at best naïve and at worst deliberately disingenuous. One has to wonder in what world would workers who are unhappy with the treatment they receive from their employer talk to that same employer first about forming a Union. Our experience nationally and in Boston contradicts this. Workers have real and well founded fears about being fired or demoted as a result of such activity.
"To be clear, SEIU Local 615 has not asked to bargain over the working conditions of Apollo employees. We have only asked Apollo to enter into a dialogue about a fair process in which their employees may freely choose to join the union, without fear of harassment or retaliation. We also believe that any process should culminate in Mr. Crowley and his organization respecting and abiding by the decision of their employees."
Palladion Services management did not respond to requests for comment.
For more information on the local Stand for Security, check out http://www.standformasecurity.org.
Also check out the Apollo Security website at http://www.apollosecurity.com, and the Palladion Services website at http://www.palladionservices.com.
License:
Creative Commons 3.0 BY-NC-SA