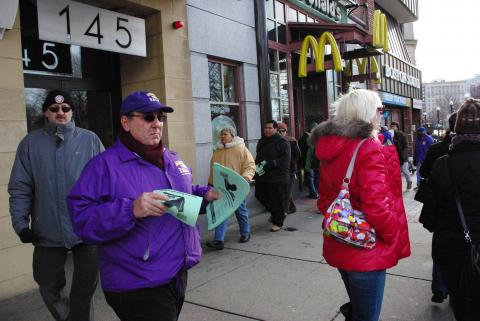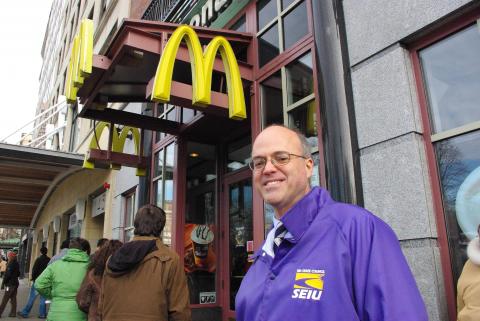 SEIU Pickets McDonald's Over Their Opposition to the Employee Free Choice Act; Company Could Be Target of a Unionization Drive
19 December 2008 - 10:58am
|
jpramas
by Jason Pramas
BOSTON/Downtown Crossing - About 30 activists - primarily from Service Employees International Union Local 615 and local labor advocacy organizations - formed a picket line outside the McDonald's restaurant at 146 Tremont St. near Park St. Station to protest the McDonald's Corporation's role in attempting to defeat the Employee Free Choice Act, a pro-union bill under consideration by Congress.
If passed, the EFCA will make it easier for workers to unionize by guaranteeing union recognition when more than 50 percent of workers at any employer sign union cards. The event was part of a national day of action called against McDonald's by SEIU in dozens of cities.
"The purpose is to protest McDonald's taking a very strong stand against the Employee Free Choice Act and majority sign-up for unions," SEIU Regional Director Harris Grumman explained after speaking about the issue with the manager of the Tremont St. McDonald's. "They and a consortium of other low-wage employers like Home Depot and Lowe's and Burger King put $200 million together to defeat us and to defeat President-Elect Obama on this legislation. So we're out here saying that's not right because the workers in these places are making, you know, 8 dollars an hour. Their CEO is making 6000 dollars an hour, and that's thousands of times more than the employees make. "
William Whitman, spokesman for McDonald's USA, felt the union's ire was misplaced, "We regret our internal effort to keep our franchisees informed on all aspects regarding this legislation has been leaked to the press and mischaracterized as an anti-union campaign. This was not our intent. In fact, we pride ourselves on being the restaurant organization for all people - especially during tough economic times like these. As such, we try to not take sides in political issues, because we know our customers come from all walks of life, and represent diverse opinions and backgrounds.
"Regarding this legislation," Whitman continued, "as a restaurant organization with 3,100 independent small businesses, we have a responsibility to inform and educate our system about legislation that could impact their business. This was the intent of the communication in question. Unfortunately, the message was leaked to the media and excerpts were used to create the impression that McDonald's is engaged in anti-union activities. Again, this was not our intent. We appreciate the opportunity to clarify McDonald's position - and again, we regret any misrepresentation of the facts."
Grumman disagreed, "They're trying to keep the workers from negotiating better wages and benefits so that they can keep making these huge profits, huge salaries, and call all the shots. And we really need to pass this legislation; so we can rebuild the American working class and the American middle class - and that's key to the economic recovery we want. I mean we really need a middle class again like we had in the postwar period that has buying power, you know, that can actually keep the economy strong. Our economy has become a speculative rich people's economy like the 1920s. And like the roaring 20s it's ending in depression. It's ending in economic crisis."
When asked if the union had plans to unionize McDonald's, Grumman said, "I think there'll be union drives in all kinds of places if we get this legislation because they won't be able to use union busters to stop us and intimidate the workers and end the democratic process of organizing at the workplace. So even a McDonald's could become a union shop if it employed free choice and that means that McDonald's could be an opportunity and a road to a middle-class standard of living."
The union said the protest was the beginning of months of actions against McDonald's, Home Depot and other companies fighting the EFCA. The picket line was peaceful, and there was no police presence.
License:
Creative Commons 3.0 BY-NC-SA