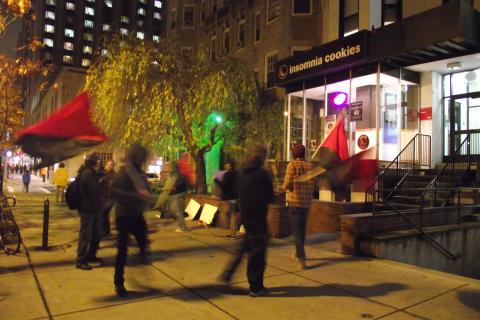 Settlement Reached Between Insomnia Cookies and Striking Workers
12 March 2014 - 1:13am
|
jadams
by Jonathan Adams (Staff)
Cambridge, Mass. - Four workers at Insomnia Cookies in Cambridge have reached a settlement with the fast food company after they were fired for going on strike in August. 
A day before a trial was set to begin at the National Labor Relations Board (NLRB) in Boston, an agreement was reached between Insomnia's parent company, Serve U Brands, and the employees' union, the Industrial Workers of the World (IWW).
According to a notice of the agreement provided to Open Media Boston, the four workers will receive back pay varying between just under $300 and over $2000.
The fired employees include Jonathan Peña, Nicholas Stapcyznski, Christopher Helali, and Luke Robinson.
The agreement states that while offered their jobs back, Peña and Stapcyznski "have voluntarily declined to be reinstated to their former jobs," while Helali and Robinson "do not have a right to be reinstated to their former jobs because they had notified us prior to their discharges that they intended to resign their employment."
The settlement follows a complaint issued by the NLRB against Insomnia Cookies on November 29, and is subject to the approval of the regional director of the NLRB.
If approved, a notice is required to be posted at the Insomnia Cookies location in Cambridge outlining details of the agreement for 60 consecutive days.
The board notice outlines that federal law permits workers to form, join, or assist a union, and that Insomnia will not "do anything to prevent you from exercising the above rights … fire you or take any other action against you because you engage in protected activities with your fellow employees that concern your wages, hours and working conditions, including a strike … maintain any confidentiality rules that improperly restrict your right to discuss your wages, hours, and working conditions with your fellow employees and others … in any similar way interfere with your rights under Federal law listed above."
It further states that the firing of the workers "will not be used against them in any way in the future," and that Insomnia "agrees that the allegations" made by the union are admitted, and therefore not contested in court by the company.
However, the agreement also states that Insomnia "does not admit that it has violated the National Labor Relations Act."
In a phone interview, Peña told Open Media Boston that "we actually fought for something, and got a turnout from something that possibly could've went either way. "For me it's just a little win," he continued, adding that "we're going to have more victories, because we're not going to stop here."
Though he won't be returning to work at Insomnia, he said that workers there know about the union campaign and about the settlement, and he hopes "that they take charge like we did" to address alleged continued poor conditions at the company.
Asked whether he'll continue being a member of the IWW, he said "most definitely, they helped me so much, so I can't stop here."
Not included in the settlement is a fifth worker who was fired from the same Insomnia outlet, for his alleged role in a short count on his cash register.
Tommy Mendes vehemently denies those claims, and alleges that he was fired in retaliation for his joining the IWW.
The prosecution of Jason Freedman, an IWW member who took part in a legal picket in November in support of the four striking workers, continues following his arrest by Cambridge Police Department officers during the demonstration.
Charges against Freedman contain allegations that he struck a police officer with a wooden flagpole, though Freedman maintains that he was wrongfully arrested during a peaceful picket.
Open Media Boston repeatedly requested a press statement from Insomnia Cookies regarding the agreement, but did not receive a response before the filing of this report.