Skype for iPhone, Now with 90% Less Suck!
24 April 2009 - 11:21pm
|
Jesse K-S
by Jesse Kirdahy-Scalia
With a few UI tweaks and fixes, the newest version of the Skype application for iPhone and iPod Touch is worth downloading. Users can save more than $50/month by utilizing Skype's unlimited calling plans, but are the application and service reliable enough to substitute for your mobile minutes?
The Skype app for iPhone and iPod Touch makes Skype's VoIP network and reasonable national and international calling rates available anywhere a user receives a wifi signal. iPhone users could save about $53/month by dropping down to the lowest plan AT&T offers ($40/month for 450 minutes) and relying on Skype's unlimited calling plans, online number and voicemail services instead (about $7/month). It's a good deal, but does the iPhone app deliver?
Useful Updates +1
This latest update to the Skype app makes several significant improvements. Chief among them, country codes are now automatically added to numbers from the user's address book. This was a major flaw in version 1.0, one which honestly made the first million apps shipped a little useless. The updated app also more reliably initializes and routes calls.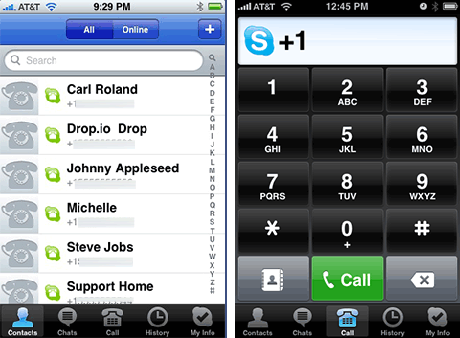 Skype uses familiar UI and now adds country codes to stored numbers.
Persistent Bugs -1
Still, problems remain; the app hangs, sometimes requiring a force quit; failed calls sometimes require an app restart; and iPhone alerts like SMS and incoming calls interrupt Skype calls, often forcing the user to restart the app before making another call. The speed with which version 1.0 was updated indicates most bugs will likely be squashed. However, problems with the iPhone OS interrupting calls need to be addressed by Apple.
In addition to application issues, there are Skype network problems; incoming calls won't always properly route to the iPhone if a desktop Skype client is running on the same network, and changes to contact lists aren't reflected until the client that made the changes is closed. Future updates to both the iPhone application and desktop clients should address this.
In call options are similar to iPhone's native phone app.
At only about 10 kb/s, the audio quality is generally pretty solid, even on slower 802.11b networks. There is intermittent clipping or dropout, but in testing, it never made conversation impossible. This leads to two concerns of bandwidth. First, why won't AT&T allow third party VoIP services to skim a little bandwidth off the top of their 3G cell network? Second, while 10 kb/s isn't much, it could add up to gigabytes monthly for heavy users, which might exceed the lowest bandwidth caps. Of course, money is at the root of both these concerns. AT&T is planning to offer their own MicroCell service for home network connectivity, and ISPs have been experimenting with pricey tiered service plans.
Verdict
Overall, Skype works quite well on the iPhone. Its familiar UI makes it easy to use, and audio quality is usually great. As a result of some bugs and problems with how the app interacts with the iPhone OS, though, users will probably want to avoid using the app for business calls. Download it and check it out if you haven't already. The Skype test operator is awaiting your call.
License:
Creative Commons 3.0 BY-NC-SA