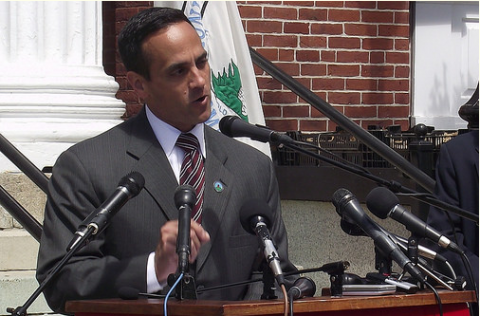 Somerville Mayor Announces Limits on City's Cooperation with Federal Deportation Program
22 May 2014 - 2:00pm
|
jadams
by Jonathan Adams (Staff)
Somerville, Mass. - At a press conference at city hall on Wednesday, Somerville City Mayor Joseph Curtatone announced an executive order that will limit the city's participation in the federal Secure Communities deportation program.
Under the program enacted two years ago, federal Immigration and Customs Enforcement (ICE) has the ability to ask local law enforcement to hold arrested immigrants for up to 48 hours after the person has posted bail, or been ordered released by the courts.
Curtatone also recently spoke at a rally at the State House in favor of passing what's been dubbed the Trust Act, a bill sponsored by State Senator James Eldridge (D-Acton) that would redefine the roles played by immigrant and law-enforcement authorities.
At the press conference, he said that "for two years we've been told that we don't know what's best for our community, that we don't know how to keep our community safe," and during that time, "the fabric of our communities, our families, have been threatened by a flawed federal program called Secure Communities."
He said that the program "engender[s] fear in the immigrant community," and "discourages witnesses and even victims from cooperating with police."
The mayor said that "our officials will continue to cooperate and work with ICE, but let me make this clear, we are not going to violate the constitutional right of due process, we're not going to waste our time and resources on people who are valuable, contributing members of our community, who've tried to play by the rules, only to find out that there's no line to get into to become a citizen."
According to a statement from the mayor's office, "Nationwide, half of the people deported through Secure Communities nationwide have no criminal convictions," and throughout the Bay State, "there have been more than 1,000 deportations since the program was enacted two years ago, and 61 percent of the people deported have no criminal convictions—and in some cities and towns in Massachusetts, that percentage rises to 79 percent."
The office said that the "executive order will stipulate that unless ICE agents have a criminal warrant or Somerville officials have a legitimate law enforcement purpose unrelated to enforcement of immigration laws, ICE agents shall not be given access to individuals or allowed to use [c]ity facilities for investigative interviews or other purposes."
Somerville Police Chief, Charles Femino, said at the press conference that when the federal program was first enacted, "it had a stated objective to remove immigrants who posed a danger to the community," but it has since become "a tool to prolong the detention of undocumented immigrants who would otherwise be released on bail for minor crimes."
Patricia Montes, executive director of immigrant-rights group Centro Presente, which is based in Somerville and is one of the leaders of the campaign supporting the Trust Act, thanked the mayor and the city's legislature.
She said "the City of Somerville is sending a very positive and a strong message, not just to the rest of the Commonwealth, but to the entire country."
According to Montes, "our current immigration system does not reflect the values of this country, [but] what Mayor Joseph Curtatone, and the City of Somerville, is doing right now does reflect the values of this country, I believe in democracy, and for us democracy is where government and civil society work together in order to improve the quality of life of all people in the community."
The executive order will be officially signed at a ceremony at the Somerville Police Department headquarters today.