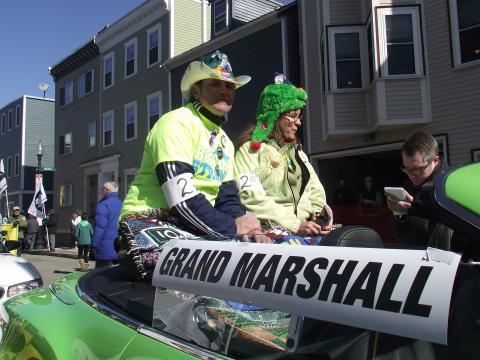 St. Patrick's Peace Parade Grows in Support as Veterans for Peace, LGBT Groups Remain Excluded from Main Event
17 March 2014 - 8:28am
|
jadams
by Jonathan Adams (Staff)
BOSTON/South Boston – For the fourth consecutive year, an alternative St. Patrick's Peace Parade was held in South Boston amidst continued controversy over the banning of certain groups from the main parade by its organizers. 
The Allied War Veterans Council (AWVC), which is based in South Boston and has organized the event since the 40s, has upheld its ban on a veterans' peace group and LGBT groups, despite mounting pressure to make the parade more inclusive.
Veterans for Peace (VFP) was originally excluded from the parade several years ago after its application was rejected by the AWVC, but the group has since organized the alternative peace parade, which begins shortly after the main parade, and is inclusive of LGBT groups and a number of peace, religious, labor, environmental, political, and social and economic-justice groups.
In an interview prior to the alternative parade, one of the key organizers and a member of VFP, Pat Scanlon, told Open Media Boston that the event "looks like it's going to be fabulous," and that it "looks like it's expanding this year."
He says, "I don't know what will get through" to the AWVC, "but I would think that with the numbers of people I think we're going to be putting on the street," they will have to take notice.
The AWVC has been legally entitled to ban any group that doesn't fit with the public image of the event they wish to convey, following a landmark US Supreme Court decision in 1995 favoring the group's right to exclude the Irish-American Gay, Lesbian and Bisexual Group of Boston.
According to Scanlon, "they may have the legal right" to ban VFP and LGBT groups from marching, because of the court's decision, "but that doesn't make it morally right to do that."
Scanlon explained that when VFP made its original application to be part of the main parade, their group had two banners, one saying "bring the troops home, and take care of them when they get here," and a second one saying "peace is patriotic, not a dirty word."
Despite VFP's willingness "to drop them if they would let us in the parade," the AWVC denied their application. Scanlon claims that he was told by one of the organizers of the main parade that "they did not want to have the word 'peace' associated with the word 'veteran,'" and to Scanlon, "that's just not acceptable."
In a press statement provided to Open Media Boston, the AWVC said, "It is our policy no to allow the display of anyone's sexuality in this parade. We feel it is a matter of unimportance in an Irish / veterans parade, and a topic that misrepresents the historic theme of this parade.
"We honor eterans for their service and sacrifice in defending our reat ation. The importance of allowing one's sexuality to be displayed in a parade has its place. This topic has caused commotion across this nation, as a threat to send a different message …
"As American's we stand up and fight for what we believe in. We will stand our ground as an example of our love of our community, our heritage and of he United States of America … "If its their sexuality they wish to be honored for, we suggest they join another parade," the statement continues.
Kara Coredini, Executive Director of Massachusetts-based LGBT-advocacy group MassEquality, said in a press statement to Open Media Boston, "It can be difficult for people who are not LGBT to understand how important it is for LGBT people to be able to be open and honest about who they are and how wounding it can be to be asked to be not too out … parade organizers were quoted in the media continuing to insist that LGBT marchers hide their sexual orientation.
"No other group is asked to march without a banner and their standard – not the police, firefighters, or the Irish. A double standard is the status quo and does not represent progress," the statement continues.
Scanlon, who is a decorated Vietnam veteran, explains that the alternative parade's "position has always been that we want to see one open, inclusive and welcoming parade … let's stop this nonsense of excluding people for whatever reason you want to exclude ."
As regards a parade that has drawn predominantly white participants, Scanlon says "we have Native Americans coming this year," and that "we're hoping that more people of color will join our parade."
Around 700 participants took part in the peace parade on Sunday, which included brass bands, drummers, floats, duck boats, and featuring Carlos Aredondo – famous for his role in helping victims during the Boston Marathon bombing – as grand marshal.
The majority of parade-goers left following the main event, but thousands remained as spectators during the peace parade, with a significant increase on the number of people who watched the alternative parade last year.
Open Media Boston asked Boston City Mayor Marty Walsh's office multiple times to state his position on the alternative parade after it was reported the mayor would not be taking part in the main parade, but did not receive a response before the filing of this report.