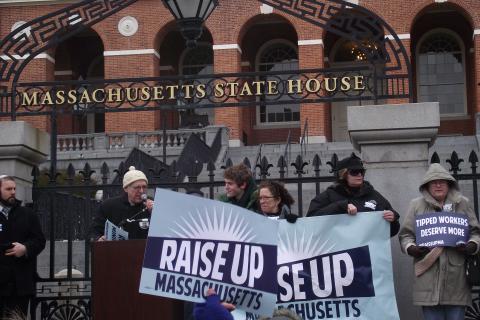 State Legislators Called on to Raise Minimum Wage
26 March 2014 - 8:20pm
|
jadams
by Jonathan Adams (Staff)
BOSTON/State House - While currently considering more than one bill to raise the state's minimum wage, legislators were called on Wednesday to increase it to $10.50 an hour, to tie future raises to the cost of living, and to increase the minimum wage for tipped workers to $6.30 an hour. 
Around 400 supporters of the Raise Up Massachusetts coalition of labor, faith, and community groups rallied outside the State House, before calling on their political representatives with their demands.
A number of workers spoke at the rally of the difficulties of making ends meet on minimum wage, and they were joined by employers who believe business and the economy would improve if the legislation were to be passed.
Working as a shuttle bus assistant at Logan Airport, mother of a five year old daughter Stephanie Daley told the rally that her job is "hard work that should be rewarded, but I can barely pay my bills on $8 an hour … that's why Massachusetts needs to step up and raise up."
Gerardo Nino, who works for tips and is affiliated with the Restaurant Opportunities Center in Boston, spoke about coming to the US several years ago with the goals of working hard and saving money, but he says, "after all these years I'm still trying to save money, because this wage that I have doesn't allow us to do much with that.
Speaking on behalf of employers in the Alliance for Business Leadership Philip Edmundson said, "I'm humbled to be in front of you, because I know the stories, we all know the stories, and it's not anything any of us should stand for anymore, and I can tell you that there are hundreds, thousands of business leaders in this state that support what you're fighting for today."
He said that "it's great for business if the minimum wage goes up, so if a legislator tells you it's bad for business, you tell them that if all of us in the state have more money to spend, more things are going to be bought, there's more demand, it's better for our economy."
According to a press release by the Raise Up campaign, "The rally was part of campaign to lift low wage workers out of poverty by raising the minimum and tipped wage in Massachusetts. The coalition is already mobilizing its final signature gathering effort to put raising the minimum and tipped wage and earned sick time on the November ballot.
"Tipped workers have lost thousands of dollars over the last six years because the tipped wage has not kept pace with inflation, and they stand to lose even more. Minimum wage workers could face similar struggles in the future as the cost of living rises and their wages do not keep pace," it continues.
Low-wage worker Kathy Byner spoke about her young daughter who needed brain surgery in 2012, and was subsequently diagnosed with brain cancer.
"I had to provide from my job of three years where I was gainfully employed," said Byner, but that "upon returning to work in 2013, I was only able to find a minimum wage, part-time job earning $8.50 an hour."
She says that "working extra hours at this pay rate is barely enough to pay one entire bill, or budget to get through the next week," and that she finds herself, "making sacrifices of buying a few groceries, paying enough on a utility bill just to avoid disconnection of services … I've been stripped of my dignity working for minimum wage."
Activist Linda Mae Pittsley, told the rally she's "fighting for what is right," and spoke about the need for earned sick-time benefits for workers.
She implored legislators to "do right by us," and said that "earned sick time has been forgotten by the people inside ," and that "we need to let them know that it's not fair to have a sick child, and not be able to stay home that child is sick."
The Raise Up coalition comprises over 100 member groups, and some of those in support of the rally included the AFL-CIO, Unite Here, the SEIU, Mass Senior Action Center, Neighbor to Neighbor, Restaurant Opportunities Center of Boston, United for Justice New England, and the Jewish Alliance for Law and Social Action.