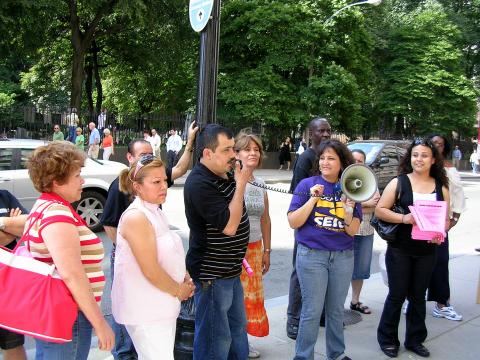 Suffolk Janitors Celebrate Contract Agreement with ABM/One Source
18 July 2008 - 1:21pm
|
jpramas
by jpramas
BOSTON/Beacon Hill - Suffolk University contract janitors with ABM/One Source celebrated a union contract victory with a short rally on Tuesday in front of the Suffolk Law School. Several janitors, organized with SEIU Local 615, spoke to a crowd of about 20 supporters including union staffers, Suffolk students, and other unions and labor support groups.
The janitors' contract had been set to expire the same day, but union negotiators were able to make gains at the last minute. The proposed 5-year contract will go to members for a vote tomorrow.
Bargaining officer and Suffolk janitor Teresa Portillo said "It's just a just offer and that is why we are recommending it to the membership for ratification."
ABM/One Source, and janitorial services company, has agreed to parity in wages between full and part-time workers doing the same jobs - as well as creating a path from to full-time jobs for current part-time employees, accessible health care and other improvements to wages and benefits.
License:
Creative Commons 3.0 BY-NC-SA