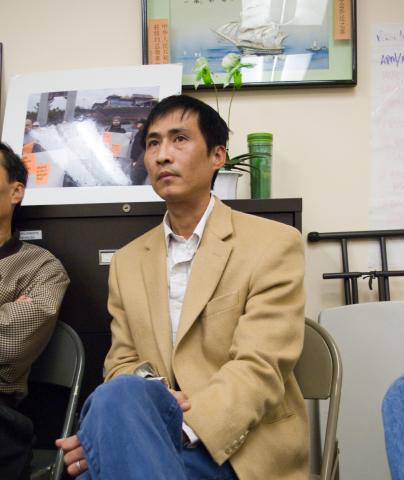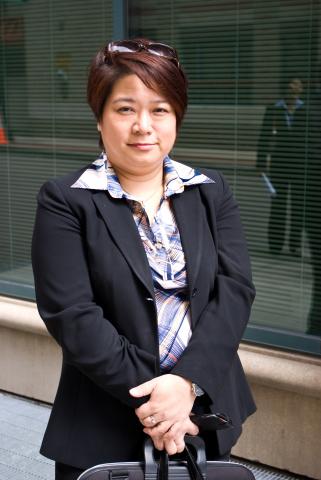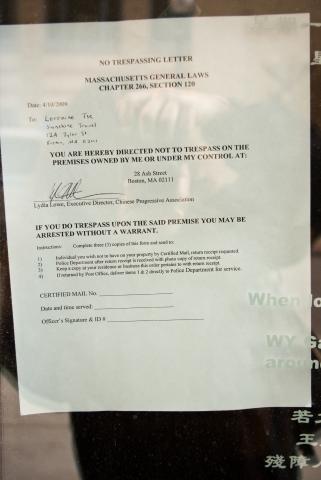 Sunshine Travel Services Bus Drivers Demand Workplace Justice at Chinatown Press Conference
16 April 2009 - 4:04am
|
superuser
by Jason Pramas
BOSTON/Chinatown - After a raucous start that saw reporters, the owner of local bus company Sunshine Travel Services, and her entourage locked out of a press conference at the offices of the community activist group Chinese Progressive Association for about 20 minutes last Friday while CPA staff convinced the Boston Police officers they had called to the scene to keep the peace, things finally got under way when the police agreed to keep Sunshine employees off of CPA's property for the duration of the event and to only allow access to the media.
Advocates and several journalists then packed into a small conference room and spent over an hour listening to testimony from Sunshine bus drivers.
At issue is an attempt by a group of 10 of the drivers to win over $100,000 in back wages they say are owed to them by Sunshine owner Lorraine Tse for a variety of infractions. The workers are also asking for better pay and a host of reforms in the workplace - which they point out would merely be putting the company in compliance with existing labor law.
However, since the workers have been employed on a contingent basis for the 3 bus companies apparently run by Tse from 2 offices, they have all been denied work assignments since they first complained about Tse cutting their pay in March.
The workers approached CPA for help shortly afterwards, according to CPA staffer Amee Chew, "Initially, the workers came to CPA when they had not been called back to work and were afraid they were laid-off. Earlier the whole workforce had received letters about taking a pay cut. Some of the workers were phoned by the employer about the specifics of the cut, and others weren't; so they suspected they would not be given more work. They wanted to know how to apply for UI; but also had questions about overtime and safety violations at the company."
Open Media Boston attempted to interview Tse about these issues on the street outside the CPA offices, but she informed us that she had been advised by her attorney to refrain from speaking to the press. Her supporters did, however, distribute her personal press statement.
In the statement, translated from Chinese to English by her company, Tse insists that the workers walked off the job after demanding higher wages. "Now," she said, "they are not only enjoying the unemployment benefit from our hard working taxpayers and also having much leisure time to continue distract and intimidate more hard working people in our company. Sunshine Travel has comply with all laws, all payroll and accounting related works are handling by our legal counselor and accountant. If we are encountering difficulty in labor issues, Sunshine Travel is willing to take advice and work with related department in solving labor issues."
But the Sunshine drivers told a story of long-term employer malfeasance and intimidation at the press conference - through CPA translator Amy Leung - culminating in attempts to force them to quit so that they could be denied unemployment. Most did not give their names out of fear of retaliation. One worker said, "My supervisor called me and said 'can you sign a statement saying you're leaving voluntarily?' And I said 'no, I'm not leaving voluntarily.' And then I wasn't called for work again."
According to the drivers, they came to CPA after they complained about the wage cuts and stopped receiving shifts from Sunshine. On March 19, 2009, the workers sent a demand letter detailing their allegations of workplace violations at Sunshine and outlining what they considered appropriate redress. Tse and her lawyer Chris Coleman sent a letter in response, denying all the drivers' allegations of wage and safety violations, but also admitting to using improper pay periods; charging workers up to $1000 for accidents; and deducting a fee to pay the cleaning lady. Tse then requested to meet CPA with her lawyer present.
The drivers asked to meet with Tse directly on April 3, 2009 without lawyers present - indicating that CPA does not represent them and would not be able to negotiate on their behalf. Tse said she would get back to them but did not show up to the proposed meeting. CPA instead got a letter from her lawyer saying that she will not meet with the drivers without a lawyer present.
On Monday, April 6, 2009, Sunshine then held a press conference for the Chinese language media. The drivers and CPA state that the same day, earlier that afternoon, Sandy Fong, a paralegal working for Sunshine Travel's lawyer, and a Ms. Huang, a ticket seller at Sunshine travel, came to a Workers Center Committee meeting at CPA, pretending to be interested in an ongoing CPA organizing campaign at the new W Hotel.
Before the meeting, Fong and Huang took photos of Sunshine Travel drivers who were also meeting at CPA. Both the drivers and CPA believe this was done in order to harass and intimidate the drivers - who fear the photos will be circulated around the Boston area Chinese community and effectively blacklist them being able to get work at other local Chinese-owned businesses. CPA staff asked the Sunshine employees to leave and they refused. CPA then called the police, and claim the Sunshine employees gave police fake identities - with Fong telling the police she was Yuk Jen Chen (the Chinese name of Karen Chen, a former staffer at CPA and a current CPA board member).
The drivers then leafletted outside of the Sunshine Travel's office during their press conference that afternoon, and later that week in the Quincy and Boston Chinatowns. The drivers also submitted complaints to the Mass. Attorney General's Office on wage violations.
After the drivers called their press conference on Friday at CPA, Sunshine Travel told Chinese language press that they will attend. CPA claims that Fong and other Sunshine office staff attempted to enter CPA to disrupt the workers' press conference. They circulated bilingual leaflets which - in the opinion of CPA and the drivers - included false information defaming several of the workers who have taken leadership in organizing.
These actions led to CPA again calling the police and locking Sunshine employees (and briefly, as mentioned above, the media) out of their offices.
Tse's statement did not provide a clear timeline of these events from Sunshine's perspective, but did make a couple of relevant statements.
First, Tse said, "Over the past 20 years, Sunshine Travel plays everything by the book. After consulting with our attorney, we are hoping to have an opportunity to communicate and meet with CPA to fully understand both side of the story. However, CPA requests and demands that I must come to have meeting with them and Sunshine Travel's ex-employees alone by myself without legal counsel.
"Facing a group of people all by myself, I feel that I would not feel safe or a sense of security by going to CPA's office alone without the company of legal counsel. Sunshine Travel has always have legal consultation and accounting matter with our attorneys and accountants, in the course in investing this matter, our legal counsel has made several attempt including letter fax confirm and received by Amy Leung from CPA's office. Additional follow up phone calls to Amy Leung yielded no response.
Later in the statement, Tse said, "On April 1, 2009, I was informed that meeting with CPA is on Friday, April 2, 2009. CPA demanded that I must come to the meeting alone and not able to bring legal counsel. And the most horrifying and disturbing things is that I got a phone call from third party and saying that, if Ms Tse doesn't not respond by 12:00 noon, Friday, CPA will contact the media, Mohegan Sun, Labor Department, Attorney General and mass produce fliers and distribute to the public to close down Sunshine Travel's operation."
CPA did in fact produce flyers in English and Chinese that recount the workers main grievances after indicating that the company makes revenues of at least $1.5 million a year ($4 million according to the drivers) providing bus service to Mohegan Sun casino and various East Coast cities.
CPA and the drivers state that Sunshine cheated drivers out of their overtime pay, by issuing checks using 3 different business names. That the drivers pay stubs have irregularities including improper pay periods and misreported hours, That Sunshine steals drivers' tips and unfairly deducts a "processing fee" from each workers paycheck. That Sunshine drivers typically worked 12-18 hour days - when 10 hours is the legal maximum - without a shift change. That the drivers were only paid $100 a day in violation of minimum wage law - before Sunshine cut their pay to $95 a day in March. That the drivers received no benefits or vacation days and worked through holidays. And that they were forced to pay for damages to buses, and keep fake log books that misreported their hours.
The drivers testimony at the press conference, primarily given by two drivers identified as Mr. Chen and Mr. Zhou by CPA, corroborated those charges, "When ticket prices were increased 50 percent, they didn't increase our salary. When gas prices went down they didn't increase our salary. So when there's good business they won't increase our salary. But when it's bad business, then they'll cut everybody's salary. There are workers that have been with Lorraine for 10 years. But they've never seen an increase in salary. And the tour guides, their pay went from $50 a day to $25 a day. $25 a day for a tour guide, how can you make a living on that?"
Chen, Zhou and other drivers spent a fair amount of time explaining their working environment, "We're often driving under difficult conditions. There's weather. Traffic. Snow. If there's bad conditions and it takes us longer to get to our destination, we don't get any overtime. We only get $100 a day. We have to clean the bus. We have to get gas. So each day we work about 12 hours. The employer showed the press their driver log. But all the driver logs are falsified. You have to be on call 24 hours. If there's something to do, you have to go do it. So it's not like we can just sit there and relax. We're always on call. So the least number of hours we worked is 12 hours a day. There was 1 tour where a driver had to drive for 15 hours a day. 6 o'clock pick up the bus in Quincy, then go to Chinatown to pick up the people to go to Mohegan Sun, go to Mohegan Sun and bring them back - that's 1 shift."
The drivers also discussed what they want from Tse, "We sent a letter to Lorraine asking for our demands at a meeting. We didn't escalate. We just hope she will change the practices at the company. And give us back the money we are owed. Such as overtime wages."
The copy of the drivers' letter to Tse that was distributed to the press listed the following specific demands:
1) Double damages in compensation for all unpaid wages, including overtime pay and withheld tips. All employees must be given their full pay including overtime pay. Withholding employees' tips is illegal; a clear record should be given to employees about the total tips the business collected each day.
2) Drivers should not be forced to pay for damages to the buses. That should be covered by insurance.
3) Work should be divided equally between the drivers when possible, and the schedule should be created a week in advance.
4) The time drivers spend cleaning the buses should be considered working hours.
5) A workers rights notice about the right to organize, and right to overtime pay, should be posted in a place visible to all employees.
6) There should be a time-clock for all employees to accurately record their working hours.
7) Stop retaliation against workers who are standing up for their rights.
CPA's Chew said that the drivers will keep fighting until they get a just settlement, "The workers continue to demand that Ms. Tse negotiate directly with them, in good faith and without lawyers present. They have filed complaints on the wage issues with the Attorney General's office, and are exploring legal options if Ms. Tse continues to refuse to negotiate. They continue to reach out for public support and to draw attention to the safety issues and wage violations at Sunshine Travel."
Sunshine Travel Services has not yet released any further response to the drivers' demands.
License:
Creative Commons 3.0 BY-NC-SA