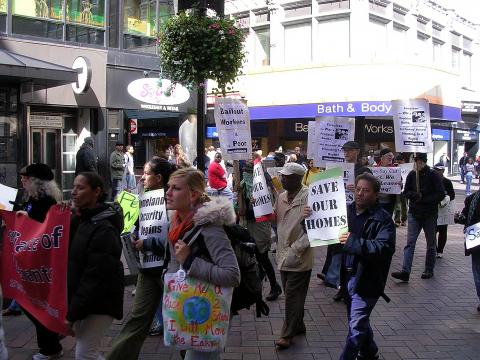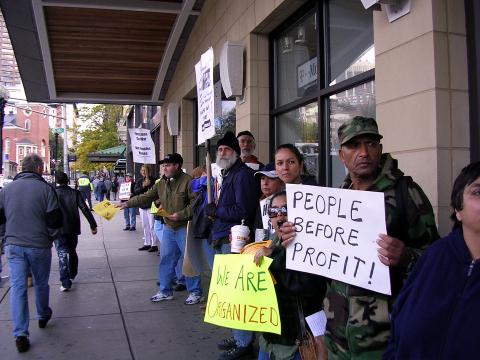 Tenant Activists Ejected from McCain HQ After Attempting to Deliver Housing Platform
24 October 2008 - 11:27pm
|
jpramas
by Jason Pramas
BOSTON/Downtown Crossing - Over 50 people - including members of the Mass. Alliance of HUD Tenants and allies - attempted to deliver a "Save Our Homes Platform" to McCain Campaign Headquarters on Tremont St. last Saturday after a short march from a rally at nearby Park St. Station. The Platform calls for full federal funding for Section 8 and Public Housing, an end to predatory investments in affordable housing, and 10 other demands.
The event was part of a series of similar actions being held in several cities during October by regional affiliates of the National Alliance of HUD Tenants, an advocacy group representing over 3 million families in housing subsidized by the U.S. Department of Housing and Urban Development. Protest organizers say that these families face displacement if Congress doesn't fully fund Section 8 and Public Housing this year.
"If Congress can find $700 billion to bail out predatory investors, they can pass legislation and find the money to save our homes," said Ronda Jackson, a MAHT tenant leader from High Point Village in Roslindale. "We want McCain and Obama to commit to help out renters as well as the homeowners affected by this crisis. Obama and McCain will both be in the Senate or the White House, so we'll need their support regardless of who wins the election."
A number of rally speakers discussed NAHT's attempt to meet with the leadership of both presidential campaigns to deliver the Platform and get commitments of support last June. The Obama campaign met with NAHT tenants and agreed to several platform points, but the McCain campaign has refused to accept the petition or hold any meetings since that time.
The chilly reception from McCain operatives continued here in the Bay State as Michael Kane, Executive Director of NAHT, and a small number of fellow activists entered the Mass. McCain headquarters while their supporters picketed the sidewalk outside. McCain staffers refused to accept the Platform, and told Kane and company to leave the premises.
"When we tried to get a meeting and deliver our platform, they threw us out and locked the door. It's the same treatment we got from the Republican National Committee in D.C., last June," Kane commented. "At least the Obama Campaign met with tenants and agreed to support most of the Platform."
Kane also stated that the McCain staffers said that they were phonebanking at the time of the protest, and that no one was available to meet with them - although they would contact the protestors later. Tenant leaders have still received no response from the McCain campaign as of this writing.
Open Media Boston asked a McCain staffer who identified himself as "Ricardo" for comment at the end of the protest, but he demurred and instead gave out the phone number for Barney Keller, Communications Director of the Mass. Republican Party. Keller was contacted 3 times this week for comment by Open Media Boston, but refused to allow a phone interview to be recorded on audio and has thus far not responded on the record by email as requested.
Protest organizers plan to keep up the pressure on the McCain campaign over the final days of the Presidential race.
The event ended peacefully. There was a light police presence, no arrests and no counter-demonstrators.
License:
Creative Commons 3.0 BY-NC-SA