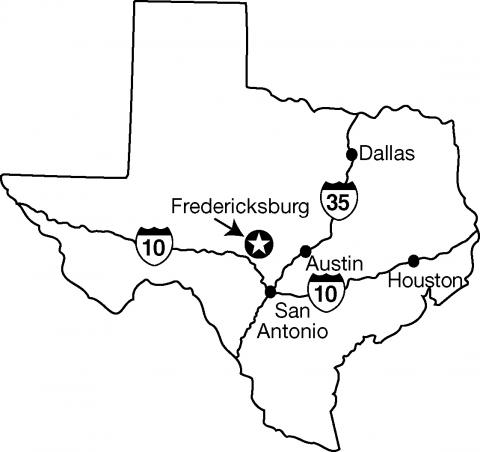 Texas: Spring Arrives With Wildflowers
16 April 2011 - 11:12pm
|
superuser
by Shirley Moskow
The hills are alive with colorful wildflowers in Fredericksburg, the heart of Texas Hill Country, where every spring Lady Bird Johnson's legacy blooms anew to the delight of travelers and locals.
Claudia Alta Taylor Johnson, popularly known as Lady Bird, was the wife of Lyndon Baines Johnson, 36th president of The United States. During his term in office, 1963-1969, she chose as her project to beautify America with native plants. From early spring through late fall Texas highways and byways bloom with wildflowers, more than 5000 varieties in all. Many of their names evoke memories of the Old West.– bluebonnet, Indian paintbrush, Indian blankets, and lemonmint. Bluebonnets were Lady Bird's favorite.
The Boyhood Home of President Johnson and the LBJ Ranch are among the area's most popular historic attractions that include a 19th century pioneer museum and the National Museum of the Pacific War, the only museum in the continental U.S. devoted exclusively to the Pacific Theater in World War II. Be forewarned, however, the museum presents a sanitized view of American involvement in the area. Nearby, there's also the quirky Hangar Hotel, a nostalgic recreation of military quarters in the South Pacific with an Officers' Club, '40s diner, vintage cars and vintage aircraft.
However, I opted to stay at a charming English-style B&B. Runnymede is picturesquely situated by a lovely meadow where horses graze. The innkeepers are two young sisters, one of whom is a culinary school graduate with a tasty lexicon of breakfast treats. All ten cottages are equipped with kitchenettes, including one that is totally wheelchair accessible. The adaptations are so skillfully incorporated into the traditional décor that it took me a while to recognize them.
Fredericksburg calls itself the "Tuscany of Texas." Along Route 290, also called the Wine Road, several vineyards, among them Becker, Grape Creek, and Pedernales Cellars, specialize in European-style wines with a Texas twist. They offer tours and welcome travelers into their tasting rooms.
Also on Route 290, about 20 miles west of Johnson City, you'll come across a field of large futuristic sculptures. Not all ranches in Texas grow cattle. The 140-acre Eyfells & Eyfells' Sculpture Ranch showcases the abstract work of world-class sculptor Johann Eyfells and his late wife, the painter Kristin Eyfells. After retiring from the art department at Central Florida University, Johann bought the ranch. It required more than 21 flatbeds to cart his sculpture from Florida.
The region attracts many professional artists and has evolved into a vibrant artists' colony. Galleries have sprouted up in downtown Fredericksburg to present their art. At the Whistle Pik Galleries, Tim and Pamela Taylor specialize in western art. At Fredericksburg Art Gallery, Donna Strickland features such local artists as landscape painter C.S. "Steve" Talley and abstract artist Joyce Combs. One of the newer galleries, Insight Gallery, inventories a collection of fine regional sculpture as well as painting. Owner/artist Jill Holland showcases more than 20 artists from Fredericksburg and the surrounding area at the Good Art Co. It's like a treasure hunt to poke around in the small space that brims with variety, including textiles and jewelry.
All the art doesn't take place in studios. The art of fine cuisine is everywhere. Lunch at Fromage du Monde offers a selection of cheeses from around the world, pates, and French chocolates, all served with a flourish, while the walls show paintings by regional artists. The Kaffe Klatch, a late afternoon German tradition, is alive and well at the Fredericksburg Pie Company. The area's German heritage is celebrated, too, at The Fredericksburg Brewery, a brewpub with gleaming copper tanks and cozy fireplace. Dinner at August E's is a sophisticated adventure thanks to the innovative creativity of Thai Chef Leu Savanh's gift with traditional Texas fare.
No trip to the Fredericksburg area would be complete without a visit to Johnson City and the National Historical Parks. The boyhood home of LBJ offers a glimpse into early 20th life. The "Texas White House," known as "The Ranch," is only a short drive away. While he was president, LBJ hosted many heads of state here.
As a young boy, LBJ had often visited his aunt and uncle at what he described as "the big house on the river." He purchased the impressive white mansion from his aunt. The surprisingly homey furnishings, however, reflect the president's unpretentious origins. After leaving Washington, he and Lady Bird returned to Texas and lived here. They donated the property in 1972 to the National Park Service.