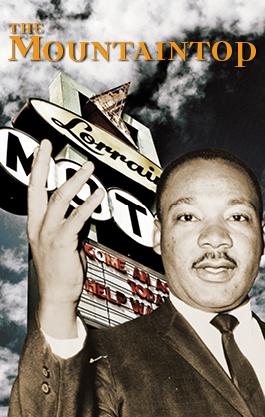 Theater Review: "The Mountaintop" at Central Square Theater
20 January 2013 - 4:59pm
|
www.suekatz.com
by Sue Katz (Staff)
The Underground Railway Theater is presenting "The Mountaintop" at the Central Square Theater until February 3, 2013. Directed by Megan Sandberg-Zakian and written by Katori Hall, the play takes place in Martin Luther King Jr's Memphis room at the Lorraine Motel in the hours after his 9:30pm speech in support of the striking sanitation workers on April 3, 1968, and his murder at 6:01pm the next day. He departed in that speech from his text to say these spookily prophetic words:
"And then I got to Memphis. And some began to say the threats, or talk about the threats that were out. What would happen to me from some of our sick white brothers? Well, I don't know what will happen now. We've got some difficult days ahead. But it doesn't matter with me now. Because I've been to the mountaintop. And I don't mind. Like anybody, I would like to live a long life. Longevity has its place. But I'm not concerned about that now. I just want to do God's will. And He's allowed me to go up to the mountain. And I've looked over. And I've seen the promised land. I may not get there with you. But I want you to know tonight, that we, as a people, will get to the promised land. So I'm happy, tonight. I'm not worried about anything. I'm not fearing any man. Mine eyes have seen the glory of the coming of the Lord."
The play has two characters: Rev. King (Maurice Emmanuel Parent) and a maid named Camae (Kami Rushnell Smith) who brings him a late-night cup of coffee. King flirts with the charming woman and, with interruptions to speak by phone with his wife and children, that single cup of coffee and a borrowed cigarette turn into an intense, emotional interplay. MLK the hero is shown to be a flawed human with his own fears and compromises.
Outside it is storming and each peal of thunder sends King into a shudder of terror. As he succumbs to increasing doubts and fear, Camae reveals herself to have unexpected strengths. Comforting him when he is cowering on the floor at one point, she calls him Michael. This freaks him out – it is his birth name but few know that – and he suspects her of being a "spook" – of being "incognegro." In fact, she is something even more powerful.
They flirt and they tease, demonstrating how very human Rev. King really is. She jokes about his smelly shoes and the holes in his socks. When he keeps bumming cigarettes from her, she tells him, "If civil rights don't kill ya, Pall Mall will." She is well aware of what an important man he is – "You like the Beatles" – but she is full of confidence about her own appeal. "Nonsense coming out of a pretty woman's mouth isn't nonsense: it's poetry." However, Camae has few illusions: she tells him that a black woman is "the mule of the world."
There is reference to Malcolm X – who like King was killed at age 39 – as well as to King's best friend Ralph Abernathy, his roommate at the Lorraine Motel. The less-respected colleague, Jesse Jackson, takes the brunt of a few jokes. The energy of the acting is high – in fact, in some sections the level of emotional intensity seems too sustained and begs for a dollop of modulation. Both the electricity and the sweet attraction between the two characters are palpable. Parent's MLK oscillates between the hero and the imperfect man, a difficult journey to portray, especially when each audience member has such a firm image of Rev. King in their own consciousness. Smith's Camae smoothly navigates from the street to the heavenly sphere, employing a winning combination of sass, wit and love. The staging, to an audience ranged on two sides, is effectively done. At the conclusion, the audience gave Parent and Smith a standing ovation and Cambridge is lucky to have this award-winning play as part of its celebrations of Martin Luther King Day.
For more information
http://www.centralsquaretheater.org/season/12-13/the-mountaintop.html
Central Square Theater
450 Massachusetts Avenue
Cambridge, MA 02139
(617) 576-9278