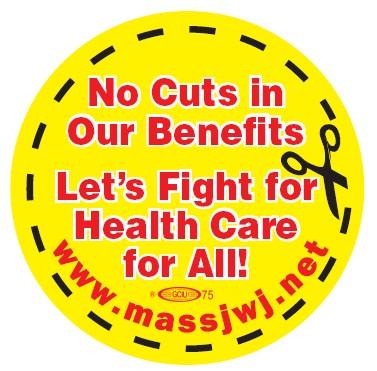 Thursday, May 22 is Health Care Action Day!
15 May 2008 - 10:20am
|
Rand Wilson
by Rand Wilson
Rally for Health Care for All, Not Cuts in Health Insurance Benefits!
One May 22, thousands of workers and community activists will wear stickers, hold rallies and do other creative actions to promote health care reforms that will cover everyone, control costs, and improve the quality of care.
IBEW and CWA members at Verizon facilities across Massachusetts and Rhode Island have invited all labor activists and supporters of health care reform to join them at events for Health Care Action Day.
Verizon is just one of many companies attempting to pressure its employees to pay more for the cost of their health insurance. But shifting premium costs to employees is not a solution. It won't hold down skyrocketing health care costs or improve the quality of care. It only lets employers avoid their responsibility to work for real solutions.
When workers stand up to their employers to prevent shifting benefit costs, it puts pressure on management to begin working for a real national solution -- instead of hiding their heads in the sand.
All working people need secure, affordable health care coverage, even if they get laid-off, change jobs or work part time. Only a "Medicare for All" reform that would improve and expand our national Medicare program can provide that kind of coverage. On May 22, help send a message to corporate America and our elected officials that were ready to fight for it!
For information about an event near you, contact Yirgalem Madie at Eastern Massachusetts Jobs with Justice 617 524-8778 or IBEW Local 2222 at (617) 929-6000. Updates will be posted at:www.massjwj.net and www.ibew2222.org