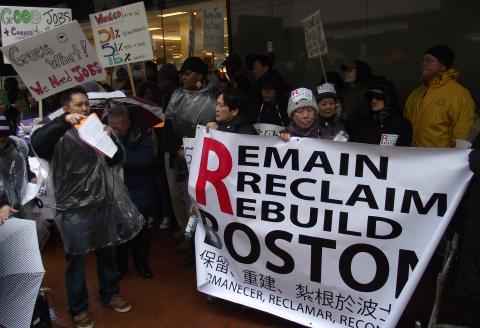 Unfair Hiring for People of Color and Women, Claims Boston Jobs Coalition
1 April 2014 - 3:40pm
|
jadams
by Jonathan Adams (Staff)
BOSTON/Downtown Crossing – The luxury building developer Millennium Partners was slammed in a demonstration at Filene's Basement in Downtown Boston on Monday for its claimed lack of adherence to local policy that sets hiring rates for city residents, people of color, and women. 
Around 200 members and supporters of the Boston Jobs Coalition picketed the condominium development before moving onto Millennium's office on Tremont St., calling on them to meet the Boston Residents Jobs Policy (BRJP) rules, and to make required affordable housing payments to the city.
In an interview with Open Media Boston, coalition spokesperson Aaron Tanaka said the demonstration was "to do with the current workforce numbers, in terms of who's actually getting on the construction site … so we're calling on Millennium to hold their general contractor to the standards that are required by the current Boston Residents Jobs Policy."
He said the coalition is asking Millennium, as "such a prominent developer, to reach for best practices standard, which is going for 51 per cent residents, 51 per cent people of color, and 15 per cent women."
Tanaka says the coalition wants Millennium to have higher rates of hiring for people of color and women than is mandated in the BRJP, but he claims "they're not really reaching that" lower requirement, despite two other construction projects in Roxbury being able to meet those higher hiring goals.
In a press statement given to Open Media Boston, a spokesperson for Millennium Partners and its contractor Suffolk Construction, said that the developer "is proud to be part of the resurgence of Downtown Crossing," and that the construction firm "fully complies with the City of Boston Jobs Policy Executive Order administered by the Boston Employment Commission.
"We have ongoing relationships with groups, such as Youth Build and Building Pathways, which encourage training for minority, women and city residences in the construction industry and others," it continues.
Tanaka claims that developers are supposed to allocate funding for affordable housing units, "but basically Millennium did not pay the full amount … and so not only are they developing a building that is going to have a huge displacement impact on the neighborhood, they're not even fully meeting their obligation …"
Speaking at the rally, Mark Liu from the Chinese Progressive Association claimed that since Millennium received $27 million in tax breaks – based on Filene's Basement being an historical site – "this is our development, and we need jobs, and we need them to pay their affordable housing fee, and we shouldn't wait for the next millennium for this to happen, we need to have it happen now."
Also speaking at the rally, Priscilla Flynn of the Black Economic Justice Institute said, "this is an historic moment in Boston: we have the Asian community, we have the Latino community, the Black community, and the white community standing up for our rights as citizens of Boston.
"This proves that there are people who care about the injustice that continues to plague our communities, this is 'Boston Strong,'" she continued.
Several workers spoke about their difficulties trying to secure work in Boston, including Kenny Gerald, an African-American bricklayer who's unemployed despite high levels of construction taking place in the city.
"I can't get a job, they won't hire me, I don't know why," he told the demonstrators, "I haven't worked in three years, I've been trying to get on, and they say you have to be in the union; how are they going to comply if they won't let you in the union? That's how I think they get around , with their little tricks there."
Bianca Duncan, an unemployed mother of one, said "it's hard out here to get a job … I've applied for jobs over and over, they never responded back, my resume is good, but they just won't give me a job.
"It's really hard for a black girl like me to try to work out here, because they won't offer nothing, everybody out here, they want a job, they want to work, but the government's not helping us … everybody needs to step together, and we need to do this," she continues.
Open Media Boston made repeated requests for a press statement from the Boston City Mayor's office regarding the issues surrounding affordable housing, tax breaks, and noncompliance with the BRJP, but did not receive a response before the filing of this report.
Editor's note (4/2/14): The name of one of the speakers at the rally has been corrected. Mark Liu from the Chinese Progressive Association spoke at the rally.