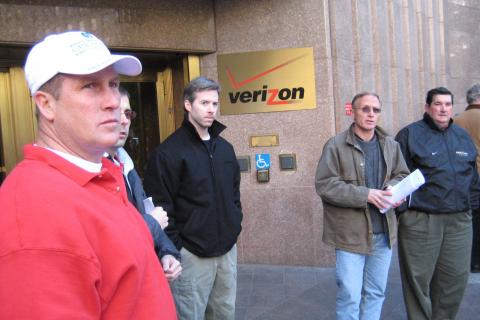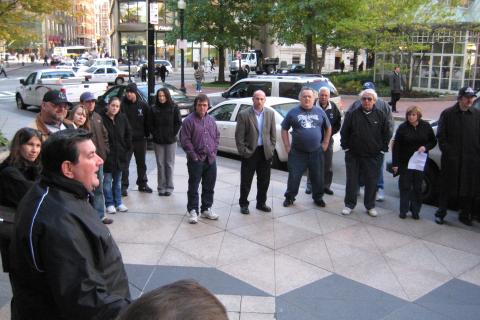 Verizon Engineers Seek Fair Treatment and Collective Bargaining Rights in Wake of Announced Layoffs
31 October 2008 - 4:02pm
|
Rand Wilson
by Rand Wilson
A majority of Verizon's more than 250 outside plant engineers in New England have petitioned the National Labor Relations Board for a certification election to form a union with the International Brotherhood of Electrical Workers.
Despite a 31 percent third quarter increase in earnings, on October 30, Verizon Communications told as many as 39 engineers that they would be laid off before the end of November.
Without collective bargaining rights or a union contract, the engineers had no voice in the decision. Many engineers are being laid off while outside contractors are working for Verizon doing similar work. The engineers work for Verizon in Massachusetts and Rhode Island designing installations for union technicians.
Union leaders are calling on Verizon to give the engineers the same consideration that union members would get if management needed to reduce staff.
"No engineer should lose their job while there are outside contractors on the property," said Myles Calvey, Business Manager of IBEW Local 2222 and Chairman of the T-6 Council. "If layoffs are needed, the company should provide strong financial incentives for people to leave voluntarily and follow a negotiated procedure for selecting who is laid off."
To coincide with the layoff announcements on Thursday, union activists handed out leaflets to union members, engineers and managers at 11 locations in Massachusetts and Rhode Island where engineers are facing layoffs.
Pictures of union members leafleting and showing support for the laid off engineers in front Verizon's New England headquarters in Boston are on the web athttp://picasaweb.google.com/randwilson.aflcio/RallyToSupportVZEngineers.
Other leafleting took place at Verizon facilities in Braintree, Brockton, Dracut, Marlboro, New Bedford, Saugus, Springfield, Wakefield, Watertown, Woburn and Pawtucket, RI.
Rand Wilson is Communications Coordinator for the AFL-CIO Organizing Department's Center for Strategic Research.