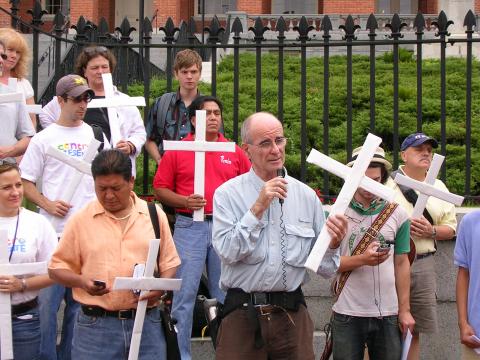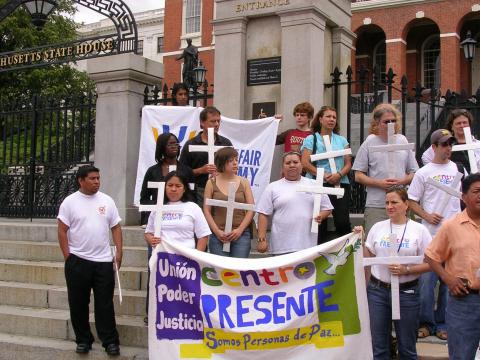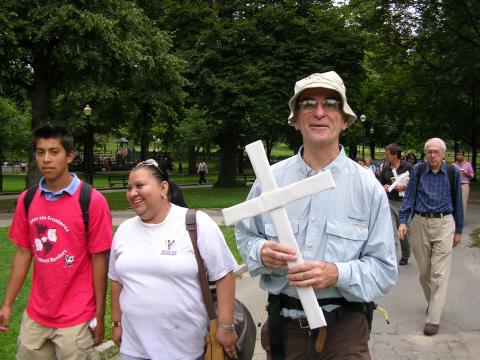 Walk for the Undocumented Kicks Off at State House Press Conference
8 August 2008 - 3:12pm
|
jpramas
by Jason Pramas
BOSTON/Beacon Hill - On Tuesday, Centro Presente of Somerville, the Center to Support Immigrant Organizing of Boston, Organization Maya K'iche of New Bedford and several other immigrant, community and religious organizations held a press conference on the State House steps to announce the start of a "Walk in Solidarity with the Undocumented" from Boston to New Bedford by Maine-based photojournalist Jim Harney.
Both cities are noted for being home to large numbers of immigrants. New Bedford was the site of a large raid on the Michael Bianco factory last year by U.S. Immigration and Customs Enforcement. Over 350 immigrant workers were arrested, most detained and many deported as a result.
Harney is dying of cancer, but hopes to draw attention to the plight of undocumented immigrants - often referred to as "illegal aliens" - in the U.S., and their need for justice and a rational federal immigration system.
"I have cancer. I have terminal cancer," said Harney in an address that can be viewed on the video accompanying this article. "And I'm hoping to use the last days that I have walking in solidarity with the undocumented human beings who are risking their lives walking from Central America trying to make it to the United States to do something very very simple. That is, to come up with an income where they'll be able to support families that are in dire straits that are living in economies that are collapsing that are falling apart. And much of the reason for that is because of trade relationships that have basically favored the elite of Central American rather than having done anything to support the impoverished of Central America.
"Those who are living outside the economic system making one dollars two dollars a day. It's unjust it's terrible and for that reason human beings are coming north trying to make an income. I believe that it's incredibly important that we begin to stretch our imaginations so that we begin to identify with the excluded of this planet- with those who are being humiliated. With human beings who are working in conditions that are simply terrible. And every day that they go to work they're worried about the immigration authorities coming in and grabbing them and separating them from families and putting them in detention camps."
Harney concluded, "The undocumented - 12.5, 13 million - are the hope of this country, and it's about time that we start to recognize them, to support them, to be proximate to them as they live in the shadows. We've got to create a situation where we bring them out and create an economic system that treats them with decent and fair wages, treats them as fellow citizens, that puts them on a path to citizenship and allows them to stand tall and allow their dignity to grow rather than to humiliate them. It's time that we do that, and this time is now."
The "Walk for the Undocumented" will take Harney to New Bedford by next Friday. Depending on the state of his health, he hopes to continue his walk to New Haven, Conn. - another major immigrant city - by October. His doctors say that he has 6 months to a year to live.
Text and Photos by Jason Pramas. Video by Meredith DeFrancesco of WERU-FM Community Radio in Bangor, Maine, and guest staff member of Open Media Boston.
License:
Creative Commons 3.0 BY-NC-SA