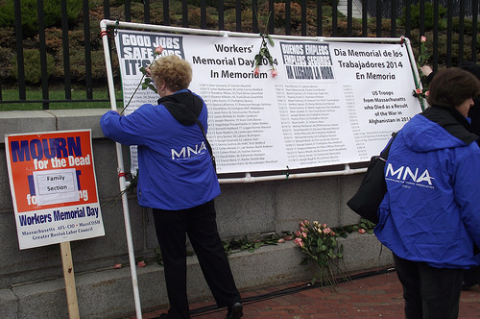 Workers Killed on the Job Commemorated, New Report Details Workplace Deaths
29 April 2014 - 12:53pm
|
jadams
by Jonathan Adams (Staff)
BOSTON/State House - The annual Workers Memorial Day, in commemoration of employees who have died on the job in Massachusetts over the last year, was held on the steps of the State House on Monday. 
Around 250 labor advocates and supporters, legislators, and the families of workers killed in the workplace paid their respects at the event and called for tougher health and safety legislation.
Speaking at the commemoration, executive director of the Massachusetts Coalition for Safety and Health (MassCOSH), Marcy Goldstein-Gelb said, "If we are going to look these family members in the eye, now and next year … we need to make a pledge that we are going to redouble our efforts to make sure that there are no more deaths; there are no more injuries.
"I want to ask you to take a public pledge … to honor the memories of these families, these fallen men and women, by ensuring that congress provides sufficient funding for OSHA [the federal Occupational Safety and Health Administration] and strengthen penalties," she continues.
The event coincided with the release of a joint report by the Massachusetts AFL-CIO and MassCOSH called Dying for Work in Massachusetts.  
According to the report, 60 workers and three military personnel from Massachusetts died on the job in 2013 through the end of March this year.
The figures include Yogambigai Pasupathipillai, a 61 year old from Sri Lanka who was strangled when her apron became caught in a conveyor belt at the Piantedosi Baking Company in Malden, Mass. last August.
It also includes Victor Gerena, a 35 year old father of five and originally from Puerto Rico, who was killed after he became entangled in machinery he was trying to clean at Sea Watch International Sea Food in New Bedford, Mass. in January.
Speaking at the commemoration through a translator, the executive director of the labor-advocacy group Centro Comunitario de Trabajadores Adrian Ventura said that Gerena was "a very kind person," and a "great guy," adding that "we don't want any more deaths; we don't want any more accidents."
Reading from a note written by Gerena's mother, Ventura said that she wants to "save all of the other workers" from a similar tragedy, and for this "not to happen again."
Steve Tolman, president of the Massachusetts AFL-CIO, said at the commemoration that aside from the workplace-related deaths, there are also "countless more undocumented" deaths from cancer and other illnesses.
He says that OSHA penalties are "so often inadequate," that "employers have found it more cost-effective to neglect safety regulations, and pay potential fines," which he claims were on average $9,312 in the Bay State, while not one was over $14,000.
According to the report, in 2013 in the Bay State it's estimated that 480 workers died from occupational disease, at least 1,800 workers were newly diagnosed with cancers caused by workplace exposures, and as many as 50,000 workers were seriously injured on the job.
Angel Rivera, a leader at the Airport Health and Safety Campaign, told those at the commemoration that he works for the airline ReadyJet, "where they're not giving us the necessary equipment we need to do our job safely."
He says he's "seen other workers at the airport who have fallen on the job," that he doesn't "want any more people to lose their lives on the job," and that his group has filed charges against the company with OSHA.
Rich Rogers, executive secretary treasurer of the Greater Boston Labor Council, said at the memorial, "this day serves as a somber reminder that all of us need to push even harder for stronger occupational safety and health standards at both the national, state level, and through our collective-bargaining agreements.
"Every Workers Memorial Day, we're moved by the stories of the families that lost loved ones; today we share the pain with them and resolve to continue to have our voices heard to ensure that workplace is the priority for every employer in the Commonwealth," he continues.