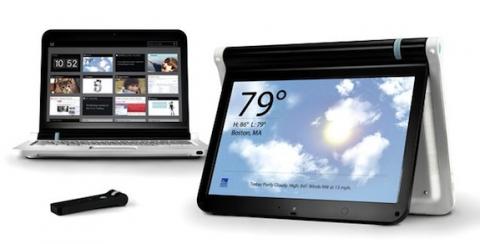 Litl's Webbook Brings the Most Tech Averse Online
24 February 2010 - 5:07pm
|
Jesse K-S
by Jesse Kirdahy-Scalia
For the past month or so, Open Media Boston has had the chance to play with a unique breed of netbook streamlined for web content consumption produced by Boston-based company, litl. The eponymous computer eschews many elements of traditional operating environments (including the caps lock key), presenting to users only those tools essential to browsing the web, using cloud applications, and networking easily with other litl users. The user experience is so simple that anyone's grandmother can get online with the litl, but that same simplicity will likely keep more advanced users away. Read on for our full review.
litl in a Nutshell
The litl boots immediately into a home screen of sorts that displays the user's web pages, RSS feeds, custom litl applications and litl preferences. From this screen, users can visually browse their frequently visited pages and web apps, search the web or open new pages. This screen is dead simple to understand and navigate (I cannot emphasize this enough), and because it's pretty much the only UI users will need to learn aside from the web pages they visit, the litl makes the Internet extremely usable for even the most acutely technophobic.
The litl's operating system automatically applies security patches, downloads software updates, and backs up the user's settings to a remote server. In the case of theft or catastrophic failure, all of the user's data and the operating system can be restored from the remote backup by contacting litl's support team, who can "push" the content back to the device with hardly any work on the user's part.
The litl relies on a wireless Internet connection to function. It really is an "Internet computer, not a laptop." Without a connection to the web, users cannot access any of their content because it's stored online rather than on the device itself. This is a bit of a catch 22 since the segment of the market that would benefit most from the litl's simplified design—inexperienced and casual users—is also the least likely to already have an ISP subscription and wireless network at home. That said, the litl would make a good gift from a techie to his or her less adept family members. Once a network and the litl is set up initially, due to the device's ease of use, and its reliable and resilient design, the gift giver would likely receive far fewer help desk calls than with any other platform.
The $699 price seems a bit high, but it includes unlimited phone and email support, and all future software upgrades and security patches.
Unboxing and Initial Impressions
Plain vanilla devices are opened. Innovative and well designed devices are unboxed. The litl falls into the latter category. Right out of the box, it's evident that litl has casual or first time computer users in its sights. While it's unusual to find any printed material—even a user manual—with consumer electronics these days, litl includes just enough printed material to provide the computer with an identity and to explain its functionality without becoming overwhelming. Messaging on the box itself sets the litl apart as an "Internet computer, not a laptop," and cards attractively illustrated by David Macaulay (The Way Things Work) demonstrate suggested uses for the litl to new costumers, explain basic functions, and point to online support resources. All of this shows the tremendous attention that litl (the company) pays to design details.
Form Factor
When comparing the litl to other computers, It's a bit difficult to class it. Its technical specifications mostly resemble netbooks, while much of its form factor resembles that of a lightweight notebook. The litl is a unique device—from a hardware, software and user experience perspective—so a strict classification is not really possible.
The litl's form factor has several surprises. Most noticeably the screen's almost 360-degree freedom of movement along its hinge allows users to orient the device in "easel mode," standing the litl up on rubber feet. Using a rubber scroll wheel and select button located on the hinge, users can flip through various channels designed for display in this mode: RSS feeds, recipes from partner sites, etc. This is especially useful in the kitchen or other locations where there might not be sufficient space to use the device in the traditional laptop orientation.
The litl in easel mode.
The litl also sports a full sized keyboard without extraneous function keys or even a caps lock button, but with a "litl" system button that brings the user in and out of the home screen, much like the iPhone's home button. Unlike many netbooks, the litl's keyboard is large enough to type on for extended periods and is satisfyingly springy, providing good tactile feedback. The trackpad, in contrast, is a bit small—especially considering the large surface area available on the litl—but not any smaller than on most netbooks, and it is, in fact, more responsive than many others in the same class.
Physical volume and mute keys along the side are within easy reach in either easel or laptop orientation. An HDMI port for 720p video out, AC in, a single USB port and a 1/8" audio out port also lie along the sides. The screen has an embedded webcam, but it's not currently supported by any software accompanying the litl OS (litl's VP of Marketing, James Gardner, said software updates later this year will make better use of the webcam). Infrared receivers for an optional scroll-wheel-equipped remote control sit beside the webcam and on the front of the computer.
Hardware and Software
Getting a little more into the technical side, the litl runs on a 1.6 gHz Intel Atom processor with 1 GB RAM and sports 2 GB solid state storage, which holds the operating system and browser cache. Most everything else—user settings, browser history, documents, etc.—is stored online using Amazon's S3 service, or by various web services like Google Docs or Dropbox. While some netbooks utilizing Intel's Atom processors rely on passive cooling, the litl has a whisper quiet fan that does a formidable job of keeping temperatures down; the device never became uncomfortable while resting on our legs, even when charging.
According to a great blog post by litl Software Developer C. Scott Ananian, the litl OS is a customized version of Canonical's Ubuntu for mobile devices distribution. The client side software is based mostly on the gjs JavaScript wrapper, which itself runs on the SpiderMonkey JavaScript engine that Firefox uses. The current distribution of the litl OS includes Firefox 3.5, which renders web content and includes Shockwave Player, Flash Player and Totem plugins to handle rich media. As Apple has been keen to point out recently, Flash eats processor cycles, which is a problem on the Atom-based litl. Flash games are slow, and video from sites like Hulu is a bit choppy, but the video, at least, will hopefully be fixed with the forthcoming Flash 10.1 for Linux which will support the litl's GPU to more smoothly handle video.
Although many of the system internals are largely opaque to users, it's possible to see some of them by using about:config, about:plugins, and about:buildconfig commands in the address bar. It's also possible to browse around the filesystem by visiting file:///, but there's not much on the solid state drive users would be interested in, and it seems attached USB storage devices are inaccessible.
On the server side, the litl uses Google App Engine in concert with Amazon S3 and Django to sync user data to remote servers and push software and OS updates to devices. According to the team at litl, a unique device ID is sent with many requests to servers, but the company doesn't collect usage data about devices or users based on those server calls.
Conclusion
In a market dominated by big players that have carved out segments for themselves, there is still a portion of of users that is not being well served by companies like Apple, Dell, Acer or Lenovo. Litl has made an excellent attempt to revision the computer for these users and has produced a device impressive from both engineering and design perspectives. The litl makes accessing the Internet trivially simple, but some of its limitations—lack of support for digital cameras or browsing thumb drives—may keep novice users away. Hopefully future updates will bring new features without new complexity.
License:
Creative Commons 3.0 BY-NC-SA