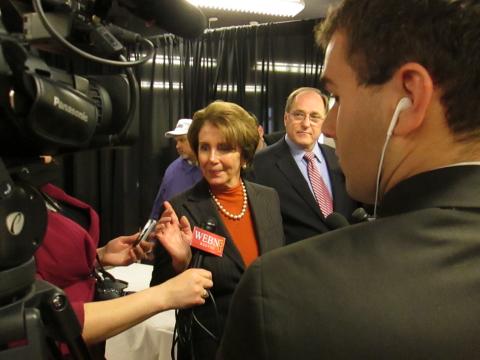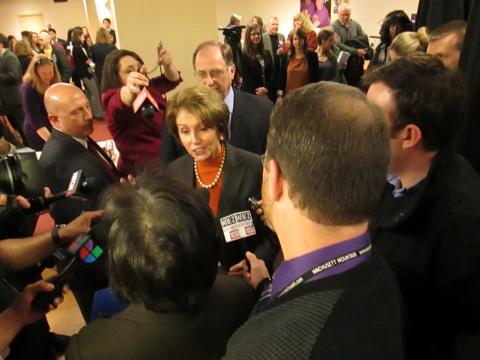 Pelosi Lands in Boston as Family and Medical Leave Act Turns 20
26 March 2013 - 8:52pm
|
Andrew Jeromski
by Andrew Jeromski (Staff)
BOSTON/Downtown Crossing - US House of Representatives Minority Leader Nancy Pelosi hit the hub on Monday to mark the 20th anniversary of the Family and Medical Leave Act at the West Street headquarters of the Service Employees International Union Local 615.
The former Speaker of the House, joined by Rep. Mike Capuano (D-Mass.), also took the opportunity to applaud local efforts to win paid sick time for workers, blast the Defense of Marriage Act as unconstitutional and lay blame on the US Senate for striking down a key piece of President Obama's landmark health care bill.
Pelosi, however, remained noncommittal over who she favors in the special US Senate election between Reps. Stephen Lynch (D-Mass.) and Ed Markey (D-Mass.), praising both lawmakers for their contributions in Washington.
In addition to a virtual who's who of Bay State elected officials and other notables, the event was attended by local activists and individuals who have benefitted from the 1993 law requiring employers to provide job-protected, yet unpaid, leave to those with qualifying medical conditions.
The speaking program was hosted by Deb Fastino, executive director of the Coalition for Social Justice, and featured Jennifer Shiao, a worker who benefitted directly from FMLA when she needed to take maternity leave and Elizabeth Toulan, a senior attorney with Greater Boston Legal Services.
Capuano expressed his belief in the importance of FMLA by sharing a personal story.
"I have my son with me, his child spent three months in an intensive care unit," recalled Capuano. "And for that entire time, my car automatically drove back and forth to Beth Israel. So did my wife. This is a human issue.
"It's something, honestly, I can't imagine a valid, rational argument against it."
The law covers workers hired by firms with over 50 employees, who work more than 1,250 per year and have been on the job for at least a year, conditions some labor activists claim excludes more than half the workforce.
Pelosi stated that federal law should guarantee workers the ability to earn paid time off.
"It's not just about women, it's about families," Pelosi said Monday. "Many men take advantage of the Family and Medical Leave Act."
A US representative from California with a strong progressive track record, Pelosi is advancing the cause of a national standard, known as the Healthy Families Act, that would allow workers to earn as many as seven sick days per year. Pelosi said 40 million Americans have no paid sick days, forcing them to work while sick or forfeit income—something many, many Americans simply can't afford to do.
The celebration of FMLA comes quick on the heels of the introduction of the HFA in Congress, sponsored by Pelosi and introduced by Sen. Tom Harkin (D-Iowa) and Rep. Rosa DeLauro (D-Conn.).
Pelosi also lauded efforts here in Massachusetts to achieve a similar goal. The 2013 Earned Paid Sick Time Bill, introduced in January by state Sen. Dan Wolf (D-Harwich) and state Rep. Kay Kahn (D-Newton), the legislation would allow workers to earn one hour of paid sick time for every 30 hours worked, "providing protection to nearly one million people in Massachusetts who are currently forced to choose between their health and their paycheck," according to information provided by event organizers the Massachusetts Paid Leave Coalition.
The efforts in Massachusetts echo similar initiatives across the country. Earlier this month, Portland, Oregon became the fourth US city to adopt a paid sick days law, while the Philadelphia City Council recently voted to pass a similar policy
DOMA
Pelosi spoke to reporters after the event, and said she would like to see the provisions of the FMLA apply equally to married gay couples and civil union partners, and stated that DOMA is a roadblock to achieving that goal.
"DOMA prevents same-sex couples from participating in those opportunities, and that's why striking it down it so important, because it says we're going to be fair about this," said Pelosi. "Family, as you describe it, and those families should have the full protection of the law, and that applies in maybe 1,400 different ways. But it makes a difference to millions of people in our country, whether you're a same-sex marriage family or not, it's about ending discrimination in America."
Pelosi also stated her belief that DOMA, which is before the US Supreme Court this week, is akin to the same concerns that led Congress to pass the FMLA 20 years ago.
"This is all about family," she said. "I'm going to have the privilege on Wednesday of being present to listen to the arguments in the Supreme Court. I'm doing that because I think this is a very important issue to who we are as a country. We will not accept discrimination of any kind and I think DOMA is an act of discrimination. I believe it is unconstitutional. I pray that it will be struck down."
Medical Device Tax
Last week, the Senate voted 79-20 to repeal a 2.3 percent sales tax on medical devices such as catheters, pacemakers and MRI machines. The tax was created to help finance coverage for the uninsured and set to start next year.
Both Bay State senators, Elizabeth Warren and William "Mo" Cowan, voted in support of striking down the tax. The medical device industry employs nearly 24,000 people in Massachusetts, and impacted companies have said the tax would be an added burden and threaten jobs.
Pelosi said the tax was actually a compromise between the House and Senate. The Senate had initially asked for a higher tax, she said.
Capuano also weighed in on the medical device tax issue.
"Look, it's really simple: Right now, this is about trying to undercut the health care law," he said, speaking to reporters following the event. "There are certain provisions of the law that any one of us would argue, but you can't do it piecemeal. You've got to look at the whole health care law.
"I think this is a politically disingenuous approach, to simply cut another tax and undermine everything the Democrats and America stand for."
Mass. Special Senate Race
Those hoping the top Democrat in Congress would come out in support of a candidate for the Massachusetts special Senate election to replace newly-minted Secretary of State John Kerry were left in disappointment, as Pelosi declined to cast her lot with either candidate, instead praising them both as "valued members of the Congress," and stating her primary goal as retaking a majority in the House.
Pelosi said Markey has been a leader on environmental issues, while Lynch has been active on national security.
Some have speculated that Pelosi may still be smarting from Lynch's refusal to support Obamacare. His opposition came at a critical moment, when Pelosi was scrambling to round up enough votes to get the bill passed. Markey, on the other hand, provided a key vote in favor of the President's health care bill.
Pelosi, however, gave no indication—publicly, at least—that this is the case.