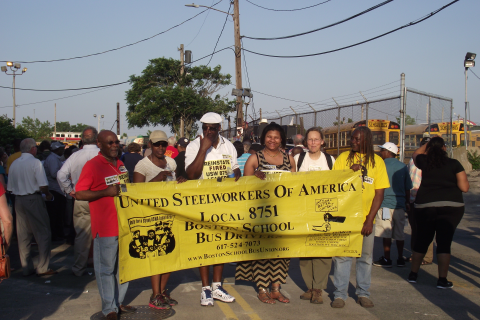 Campaign to Reinstate Fired School Bus Union's Leaders Continues
1 July 2014 - 12:17pm
|
jadams
by Jonathan Adams (Staff)
BOSTON – Boston Public Schools bus drivers renewed calls for their employer, Veolia, to reinstate the four fired leaders of their union, the United Steelworkers (USW) local 8751, in a rally at the Freeport bus yard in Dorchester on Monday. 
Stevan Kirschbaum, Andre Francois, Steve Gillis, and Gary Murchison were fired in November following a work stoppage on October 8 that caused major disruption to thousands of families with schoolchildren across Boston.
The stoppage was widely reported, and also is claimed by Veolia, to be a wildcat strike in violation of the collective bargaining agreement (CBA) between the union and the company, but the union has adamantly maintained that they never engaged in a strike and were locked out by company management, and that the termination of the union leaders was unjustified.
Though the USW's international originally issued a statement calling for an end to what was assumed to be a strike action engaged in by the local last October, the international now considers that the bus drivers were wrongfully locked out by the company following an internal investigation.
According to Andrew Slipp, the USW international's staff representative working with the bus drivers, "While it initially appeared that the drivers engaged in an unauthorized work stoppage, it is now clear, from the statements of hundreds of drivers and from other information revealed during the discovery process, that the drivers were locked out by Veolia … our position is that the drivers were improperly and wrongly terminated, we support them, and we are vigorously working for their reinstatement in all forums available to us."
Slipp added that Veolia "is a notoriously anti-union employer with a history of provocative behavior both domestically (verified by the NLRB) and internationally (most recently in Sweden)," and that the company's "actions in Boston must be seen against this backdrop."
He explained that the efforts to reinstate the drivers are being pursued in three ways: through the arbitration process, through solidarity events like this rally, and as part of the current contract negotiations, but that the company "is not interested in reinstating the four, and will let the matter play out in arbitration."
Veolia did not issue a press statement concerning the bus drivers' rally, but Valeria Michael, director of corporate communications at the company said that, "Regarding the four fired drivers, we are still [engaged] in [the] process in accordance with the collective bargaining agreement.
In a previous statement issued by Veolia, the company has made clear that it believes the work stoppage in October to have been a wildcat strike in violation of the CBA, that the termination of the four union leaders is justified, and that claims of a lockout are unfounded.
Speaking at the rally in support of the drivers and the fired union leaders, Myles Calvey, the Business Manager at the Boston-based International Brotherhood of Electrical Workers (IBEW) local 2222, said "this is not a fight about the bus drivers, it's about organized labor, and how corporations continue to wilt away what workers have gained over 50 years, and we [in the union movement] can't allow this, whether it's five bus drivers, four bus drivers, one bus driver, we have to protect everybody."
Boston City Councilor, Charles Yancey, said he was there to "restate my support for all of Boston Public Schools drivers."
He said that "of all the unions in the city you deserve support from the public, you deserve support from the parents, you deserve support from the teachers, you deserve support from every union in the city of Boston, because you have demonstrated your integrity, you've demonstrated your strength, you've negotiated great contracts for school bus drivers, in fact, you have now become a victim of your success, that's why they're going after your leadership, you're too good, you're too effective, you're too strong."
Rich Rogers, executive secretary treasurer of the Greater Boston Labor Council, said that "what we're not going to put up with in Boston … some foreign firm coming in here and trying to knock people's wages down that they've fought [to get] for 30 years, that's what we call union busting, the Greater Boston Labor Council says 'no' to union busting, we're with you, this needs to be resolved at the bargaining table."