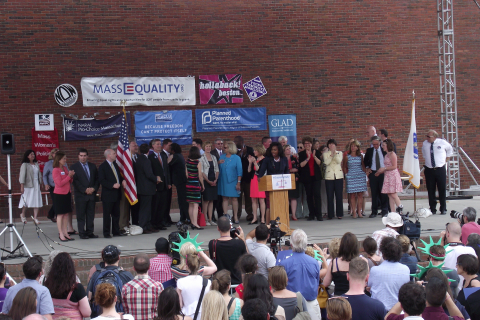 Pro-Choice Legislators, Advocates Hit Out at Supreme Court Decisions
11 July 2014 - 2:25pm
|
jadams
by Jonathan Adams (Staff)
In a rally at Boston City Hall on Tuesday, state and local legislators, and pro-choice advocates, hit out at the recent US Supreme Court rulings, which struck major blows against the provision of women's reproductive healthcare. 
The court ruled that the so-called 'buffer zone,' which banned protestors from coming within 35 feet of reproductive healthcare clinics, is now illegal, and in a separate ruling that corporations can object on religious grounds to providing health insurance to employees that includes access to contraceptives.
Over a thousand protestors took part in the rally, joining the top echelons of state and local government.
Boston Mayor Marty Walsh told the rally, "I'm disappointed in what the United States Supreme Court has done in the last few decisions they've had, and I can't believe that we're in 2014, and we're worried about what the Supreme Court has done, setting women's rights, and the women's movement back … it's a disgrace what they did."
Walsh added that "we're going to make sure in our cities and towns that we enforce our own laws and make sure that women have the right to safe health, when people continue to make the decisions that affect your body, not my body, we make sure that you have the safety of those rights," explaining that "we will make sure that women have access to the [Planned Parenthood] facility on Beacon St., so they don't get interrupted by people that want to force their message on us."
Megan Amundson, executive director of NARAL Pro-choice Massachusetts, one of the key organizers of the rally, told the protestors that "Massachusetts needs to become a leader to protect safe access to affordable reproductive healthcare."
She said "it is tough to be a woman in this country right now, the Supreme Court has decided that harassment against women isn't harassment, and discrimination against women isn't discrimination, and that makes us angry."
Amundson explained that NARAL and state legislators are already working with the governor's and attorney general's offices to develop legislation that will provide safe access to reproductive healthcare clinics now that buffer zones have been ruled illegal.
Attorney General Martha Coakley told the rally, "let's just not get angry, let's get even, and we will get even," adding that "we are going to make sure that women in Massachusetts have access to contraception, and if that contraception fails for some reason, you will have access to choice, we are committed to that in pro-choice Massachusetts."
On the federal level, Massachusetts Senators Elizabeth Warren and Ed Markey are co-sponsoring a bill in the US Senate in regard to the buffer zone ruling, while other US legislators have filed the Not My Boss' Business Act concerning access to contraception through employee health insurance.
Marty Walz, the CEO of the Planned Parenthood League of Massachusetts said that "right now the protestors are winning, right now the protestors are depriving women of healthcare, they're chasing our patients, and our staff down the sidewalk screaming at them, they're chasing our patients into the street as our patients run to get away from them, not exactly the quiet counselling the supreme court thinks they're doing, they're shouting, they're screaming, they're in our faces, and we are not going to take it, we are going to right this wrong."
Boston City Councilor at Large Ayanna Pressley told the rally, "mere days ago we celebrated the anniversary of the passing of a historic civil rights act, and act to prohibit discrimination, to eliminate barriers to equality and inclusion, we marked that triumphant day just days ago, and here we are today in a twist of cruel, cruel, irony, seeking to galvanize the grassroots movement and engage our legislature to reverse the tide of two injustices recently carried out by our supreme court with the buffer zone law and the [Affordable Care Act] Birth Control Mandate.