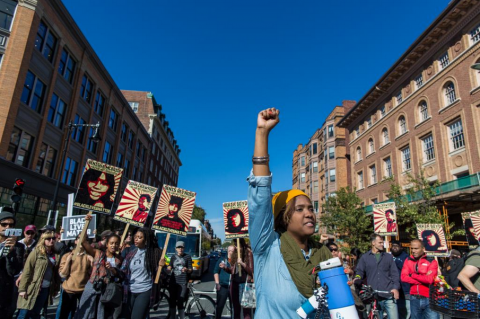 PHOTOS: 10/25 Newbury Street Shutdown in Solidarity with Ferguson
7 November 2014 - 3:57pm
|
superuser
by Leonardo March (Staff)
BOSTON/Back Bay - On Saturday, October 25th, hundreds of Boston activists marched along Newbury Street as part of a "Newbury Street Shutdown" action in solidarity with Ferguson and the Black Lives Matter Week of Action. The goal of the event, according to its Facebook page, was "to ensure that no one in our city can continue to ignore the crisis of racial profiling and police violence against Black and Brown people in Boston, Ferguson, and across the country."

Activists marched carrying sings with pictures police brutality, victims and chanting "hey hey ho ho, these killer cops will have to go"  - to the apparent surprise of many of those having lunch or shopping at the upscale shopping street. The action concluded at the intersection of Newbury and Massachussets Ave., where a call to end police brutality was made.
 
Click here to read a feature story on the Newbury Street Shutdown in the Radical Boston section of Open Media Boston.