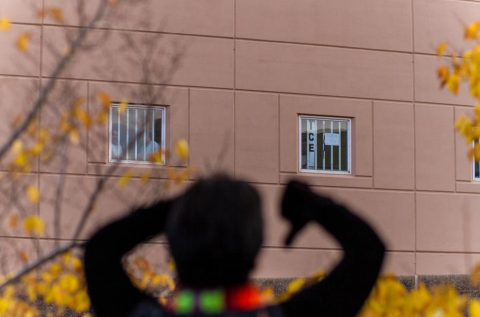 Boston Interfaith Group Stands With Immigrant Detainees
14 November 2014 - 11:12pm
|
superuser
by Tara García Mathewson and Leonardo March (Staff)
BOSTON/South End - They stood at the windows, some holding onto the bars that kept them in, others waving their hands or banging open palms against the glass. One made a heart shape with his hands. One held up a sign thanking the crowd across the street for their support.
The Boston New Sanctuary Movement is entering its sixth year of regular vigils outside the Suffolk County House of Correction, standing in solidarity with the immigrants held inside its walls. Several times per year, an interfaith crowd gathers to sing, pray and wave at those held captive for entering this country illegally or overstaying the visas that let them in.
"The group keeps growing, the singing gets better and there are more signs at the window," said Rev. Maria Cristina Vlassidisi Burgoa, the second minister of Brookline's First Parish church. "I know that they are receiving our energy. They know they are not alone."
Vlassidisi Burgoa came to the United States from Chile with her mother and grandmother when she was 17 years old. Because her grandmother was undocumented, she didn't have access to the health care she needed to treat the Alzheimer's she developed. At first, watching her grandmother die without treatment compelled Vlassidisi Burgoa to become a lawyer and work for immigrants' rights. Later, though, she got a call to the ministry, recognizing many more people needed spiritual support.
"I take hope and take heart in the resurgence of the sanctuary movement," Vlassidisi Burgoa said.
The Boston New Sanctuary Movement is an interfaith coalition of area churches willing to open their doors for immigrants to take refuge and avoid detention and deportation. They also advocate for immigration reform and offer public forums to educate the wider community.
The original Sanctuary Movement in the 1980s brought churches together to offer shelter and support to Central American refugees who could not get official asylum from the U.S. government.
At the Boston New Sanctuary Movement's most recent vigil, on Nov. 9th, a couple dozen people joined the chanting and praying outside of the jail. Volunteers read through the names of nearly 150 immigrants who have died in custody, noting that Immigration and Customs Enforcement updates the list just once per year. Causes of death range — there's asphyxiation, drowning, pneumonia and various cancers. Ages range, too — some are senior citizens while others are not yet middle-aged. After each name, read through a megaphone, the group said "presente." Most of the dead have Spanish surnames but there is diversity there, too — a Kim, a Smith.
Once every person was acknowledged and remembered, the group took signs in hand and walked along the highway offramp that borders the jail, up a set of stairs to be within sight of the immigrant detainees, who had gathered to watch and wave.
Rev. Mykal Slack pointed out a rainbow just above the jail roof.
"Think about the hopefulness of that," Slack said.
The vigils are an emotional event for Laura Heath, a PhD candidate at Boston University. As an archaeologist, Heath does research in the central Mexican state of Tlaxcala.
Looking up at the men pressed against the jail windows, Heath thinks of her research and her freedom of movement across the border. Just by purchasing a plane ticket, Heath gets herself six months in Mexico — no visa required. Yet virtually everyone she has met in Tlaxcala knows someone living illegally in the United States.
"My hope is that, as a country, we learn to prioritize the lives of people over rules and borders," Heath said.
Margy Herley, a member of Boston's Arlington Street Church, hopes President Barack Obama will step up and push through comprehensive immigration reform. With election results in nationwide, Herley figures it's up to the president to work alone.
"Congress will never do anything," Herley said. "Not now at least."
The Boston New Sanctuary Movement will meet next on Jan. 24 to discuss plans for a summit. Depending on weather, the next vigil will be sometime this winter or at the beginning of spring. Learn more about the New Sanctuary Movement by visiting bostonnewsanctuary.org. 

Text: Tara García Mathewson
Photo: Leonardo March