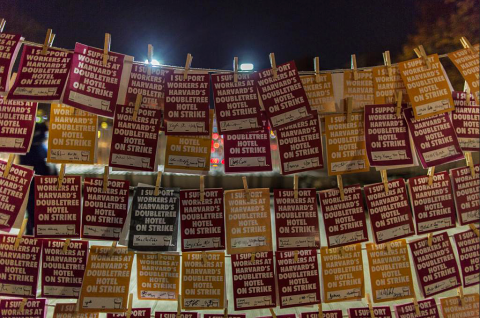 Workers at Harvard-Owned Hotel Strike, Demand Fair Process to Unionize
23 November 2014 - 6:33pm
|
superuser
by Tara García Mathewson and Leonardo March (Staff)
Cambridge, Mass. - Housekeepers at the Harvard-owned DoubleTree Suites by Hilton complain of injury at a far higher rate than their peers at other hotels. They are responsible for cleaning more rooms than their fellow housekeepers in the area. And, in a year and a half of asking, they have not been able to get DoubleTree management to agree to a fair process as they try to form a union.
Their response Thursday was a one-day strike.
DoubleTree's general manager, Jayne Barrett, issued a written statement about the strike that said the hotel was operating as normal. She said 19 of the 23 housekeeping department employees scheduled to be at work Thursday reported in. Many others spent the day on Harvard's campus explaining their demand — that Doubletree agree to a fair process, ensuring workers involved in the unionization drive are not retaliated against and the company remains neutral throughout the campaign.
Katherine Blaisdell is a graduate student in a dual program at Harvard's school of government and school of divinity. This is her second year working with other students to bring awareness to the housekeepers' struggle. She joined hundreds of other students, faculty members, community allies, union members and DoubleTree employees Thursday at a rally in Harvard's main plaza that culminated in the delivery of thousands of petitions to the administration.
"Harvard is refusing to take responsibility for these workers and I don't want to be complicit in that," Blaisdell said.
The petitions ask Harvard to step into the labor dispute and take a stand. Allies argue Harvard can require management to cooperate. The university has owned the hotel since 2005 and profits from the hotel's operations as well as its increased value since that time.
Kevin Casey, associate vice president for public affairs and communications, highlighted the "strong relationship" the university has with its nine unions in a written statement before the rally. He said Harvard does not employ the striking workers and is not a party to their unionization process.
"Harvard encouraged the parties to undertake a fair election process — secret ballot or card check — but has not expressed a preference as to which ballot process should be followed, so long as the parties agree to a process," Casey said.
While the president of UNITE HERE! Local 26 received a letter in May of 2013 from Harvard's human resources department declining to become involved in the union organizing campaign, Casey sent a letter to the general manager of DoubleTree supporting a fair process in July. Workers, though, still have no commitment from DoubleTree that they will be safe should they try to unionize.
Delmy Lemus, of Revere, has worked at the DoubleTree Suites just south of Harvard's Cambridge campus for six years. She said the hotel's especially heavy sofa beds cause pain in her back and shoulders, adding that she and her fellow housekeepers are expected to clean far more than is common elsewhere. DoubleTree workers must clean 14 two-room suites each day while their unionized peers, on average, clean 15 single rooms, according to DoubleTree workers and UNITE HERE! Local 26 research.
Lemus worked through her last pregnancy and said she was poorly treated. She criticized Harvard for "hiding" but said she and her fellow housekeepers won't go away.
"I don't want any woman to suffer what I suffered when I was pregnant," Lemus said.
Employee injuries at DoubleTree are not uncommon. Marya Axner, director of the New England Jewish Labor Committee, said that was one reason her group decided to ally with the DoubleTree workers. In other hotel unionization drives, Axner said it is common to hear complaints about wages and scheduling but the safety complaints by DoubleTree workers at this location stand apart.
"I've never heard about workers being treated so badly in terms of worker safety," Axner said.
Text: Tara García Mathewson
Photos: Leonardo March
To stay up-to-date on developments in the unionization campaign, visit www.harvardhoteljustice.org.