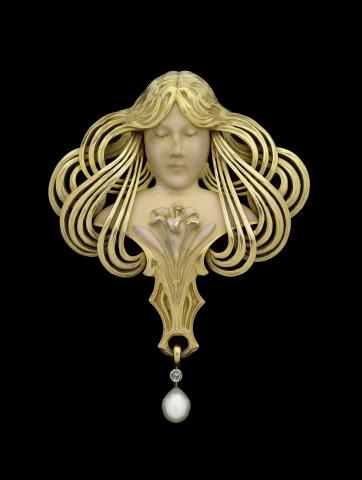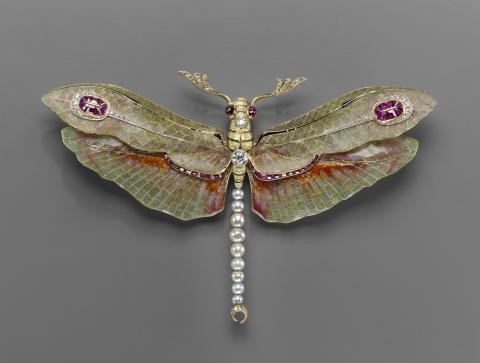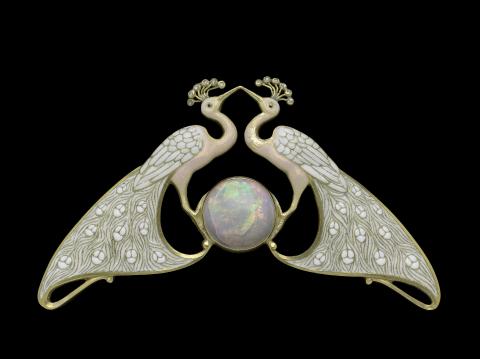 Imperishable Beauty Dazzles at MFA
15 October 2008 - 3:59pm
|
Smoskow
by Shirley Moskow
Art preserves - youth never fades and flowers never wilt - so even though the calendar tells us it's October, it's still summer at the Museum of Fine Arts where "Imperishable Beauty: Art Nouveau Jewelry" is on view through November 9. Bejeweled butterflies, exotic enameled dragonflies, fantastical flora, and beautiful women who first saw the light of day a century or more ago glow with perpetual life.
Art Nouveau, new art, arrived on the scene at the end of the 19th and beginning of the 20th century. It made a political as well as a decorative statement. The artists wanted to break with the past. Like the Arts and Crafts movement, with which it was roughly contemporary, the aesthetic was a reaction against industrialization and over-the-top consumerism of the 1880s, dubbed "The Gilded Age" by Mark Twain. Both movements prized natural materials and honest workmanship. Artistry and technical virtuosity trumped intrinsic value.
Designers rebelled against "the tyranny of the diamond." Although some of the approximately 100 objects in the exhibition on loan from a private collector include diamonds, they also comprise natural materials like horn and glass. For its range of color and iridescence, the favored stone was the fragile opal. A delicate Double Peacock necklace from around 1900 by Eugene Feuillâtre is made of gold with enamel feathers accented by small diamonds. The birds are holding a large opal.
Imaginary creatures as well as such symbolic subjects as snakes, bats, and wasps also attracted designers. The result could be sensuous and menacing. One gold belt buckle features two lionesses with a garnet in their mouths and a carved unpolished emerald.
The jewelry makers' skill and attention to detail extended to areas of their work that are not usually visible. However, the MFA has devised innovative cases that permit viewers to see the backs of some necklaces and brooches.
Men as well as women appreciated Art Nouveau. Some displayed large pieces of jewelry as desk ornaments. The sinuous line and asymmetrical shapes that distinguish Art Nouveau also found their way onto posters, most notably those of Aubrey Beardsley, and such architecture as the entrance to subway stations in France and Vienna. To put the style in context, the exhibition gallery includes, among other objects, a vase by the French Art Nouveau glassmaker Emile Gallé and Japanese prints, which often inspired the jewelry makers.
The movement originated in France and Belgium and traveled through Europe to the United States, where Louis Comfort Tiffany Studios produced fine examples. Although each country's art expressed a subtle difference in style, it shared such unifying subjects as naturalistic interpretation rather than natural representation of nature, animals, gossamer fabrics, the female form and face. Artists frequently depicted the woman's face with a dreamy countenance, sometimes with closed eyes. It was an attempt to capture the state of inner consciousness expounded by a controversial, young doctor, Sigmund Freud.
The exhibition takes its name from artist and architect Henry van de Velde who called Art Nouveau, "a new, imperishable beauty."
Photo Credits (All Photos Used With Permission)
01. Pendant/brooch with female bust, about 1900
Probably by: Louis Aucoc (French, 1850–1932)
Gold, enamel, and pearl
*Private collection
*Photograph © Museum of Fine Arts, Boston
09. Dragonfly pendant-brooch, 1904
Philippe Wolfers (Belgian, 1858–1929)
Platinum, gold, enamel, diamond, ruby, and pearl
*Private collection
*Photograph © Museum of Fine Arts, Boston
10. Double peacock necklace, about 1900
By: Eugene Feuillâtre, 1870–1916
Gold, enamel, diamond, and opal
*Private collection
*Photograph © Museum of Fine Arts, Boston