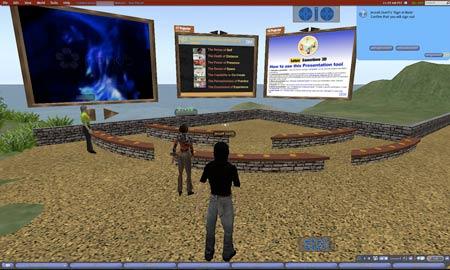 Is Virtual Presence Viable for Collaboration? A Look at IBM's "Virtual Collaboration for Lotus Sametime"
3 July 2009 - 11:24pm
|
Jesse K-S
by Jesse Kirdahy-Scalia
IBM announced last week that it was adding a virtual world collaboration service it's calling Virtual Collaboration to its Lotus Sametime communications and collaboration software, which is aimed primarily at enterprises. Virtual Collaboration allows users to collectively view and create documents in a virtual environment similar to Second Life, in essence creating virtual work and meeting spaces. It's pretty cool, but does this kind of immersive technology actually make collaboration via virtual presence a realistic option?
Obviously, perhaps, virtual worlds allow individuals to experience "being" in the same virtual environment, while remaining at their desks. Second Life, Sony's Playstation Home and World of Warcraft are all examples of virtual worlds. Virtual Collaboration is similar, but rather than create fictional worlds, Virtual Collaboration aims to recreate familiar real world environments like a boardroom or a theater, and extend the utility of real world tools like a calendar or a drawing board.
This concept sounds promising; one can imagine people not just sharing a document, but being together in the same room, sharing the same environment. If done well, immersion technologies could potentially create environments as vivid and compelling as ours, but free from geographic restrictions, and with all the interconnectivity of the Internet. Such technology would bring together the most advanced functions of digital collaboration with the benefits of being physically together.
So I wondered, when I had the opportunity to try out Virtual Collaboration (then called Sametime 3D) for myself back in May, whether the environment and collaborative tools available in the service were actually helpful, or if they simply virtualize sticky notes and Powerpoint Presentations without creating new utility. I was guided through the collaboration space by Paul Moody, a Design Researcher from IBM's Collaborative User Experience group in Cambridge, Karen Keeter, a Marketing Executive at IBM in Atlanta, and Karen Lilla, Global Communications Manager at IBM in Cambridge.
Keeter walked me through the technical details of Virtual Collaboration. The service runs on the BSD-licensed OpenSimulator application server, an open source project to which IBM contributes code, and is written in Linden Scripting Language, and utilizes Open Sim extensions that add tools for editing and creating items from within the virtual environment. Users enter Virtual Collaboration using viewer software like Linden Lab's Second Life viewer, similar to the way users view the Internet with web browser software.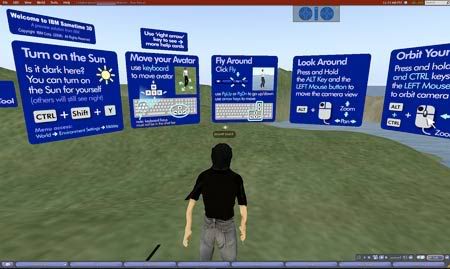 Users start off in Sametime 3D's tutorial corner.
Upon entering the Sametime 3D demo, the user is initially presented with a quick set of instructions that appear as in-world signs. These are intended mostly as a refresher, as IBM offers a tutorial to help Virtual Collaboration clients learn the system. According to Keeter, most clients figure this out quickly and are able to navigate the environment and utilize tools by their second experience with Virtual Collaboration.
"It takes them an hour, it takes them a half hour, but they get it," Keeter said, but I have to wonder if this is really the case. Even as a Second Life veteran and video game aficionado, I had some trouble navigating and using certain tools.
The Presentation Corner includes screens to which users can send streaming Quicktime video and PowerPoint presentations, but watching my avatar watch a PowerPoint presentation did not seem to add anything to the experience.
The most useful and promising feature in Sametime 3D is the Brainstorm Board, a towering grid of empty spaces waiting to be filled with users' content that looks like an old Jeopardy set. Users can create notes, edit others' and vote on notes. Once finished with the session, users can export a summary of the board's contents to a .csv file that can be imported into OpenOffice.org Calc or another spreadsheet application. While the most compelling feature, this was also unfortunately the most difficult to use. Editing notes required an abundance of clicks, navigating the tricky inventory system, and several confirmations of user intent ("Are you sure you wanted to click that?").
The Brainstorm Board lets users add notes to a board everyone can view. Users can then export its contents to .csv for reference.
Bringing physical, real world tools into a computing environment as user interface metaphors has frequently proven, in the long run, to be an impediment to human-computer interaction. The old UImethod of using back and forward arrows to turn pages on a document, for example, is terribly frustrating compared to scrolling through a single long web page. In another example, the files in folders metaphor is now being depreciated in favor of the exceedingly more useful metaphor of tags or labels implemented in searchable file metadata (MS Outlook folders compared with Gmail's labels, for example). Developers seem to initially want to recreate tools and processes they use in the real world, but as more powerful computers and software allow for it, developers inevitably implement new, more efficient metaphors, abstractions and workflows, divorced from real-world limitations.
The representation of a user as an avatar in a virtual world is the most natural example of bringing real world tools—the human body—into a computing environment. Just as in other examples of UI abstractions of physical tools, the avatar metaphor presents users with frustrating limits, holdovers from the original, 23-chromosomed physical implementation of the human. In this instance, the avatar acts as an obfuscation layer, lying between the user and what she wants to do with her data and collaborators.
A proper implementation of a virtual collaborative space will require tremendous bandwidth for sensory information, and an immediately intuitive interface. And Virtual Collaboration for Lotus Sametime has not yet achieved this. Until these conditions are met, virtual worlds will likely be seen as offering limited advantages over either in-person meetings or existing, more abstract software solutions not limited by the human body, virtual or otherwise.
Ultimately, I'm unconvinced that recreating real world tools in a virtual environment and embodying users in an avatar produces a useful collaborative environment at all, to say nothing of the relatively low bandwidth experiences (as compared to the bandwidth offered by one's five senses) that technology currently available to individuals or businesses produce. Just as developers have shifted towards more abstract and powerful interface metaphors in other areas of computing, they will likely turn their attention away from avatars and virtual worlds to creating a new human abstraction for collaboration. In this context, Virtual Collaboration for Lotus Sametime is compelling, but fundamentally flawed.
License:
Creative Commons 3.0 BY-NC-SA