BOSTON/Roxbury - It was awkward at times; and messy. But for about two hours this past Thursday night, Governor Deval Patrick did his best to field questions and requests for help from local residents at a town hall meeting held in the basketball gymnasium at the Reggie Lewis Track and Athletic Center in Roxbury.
Hundreds of people turned out to the Athletic Center to express frustration with state budget cuts, criticize the slow pace of neighborhood transportation improvements, and offer advice on a variety of policy issues.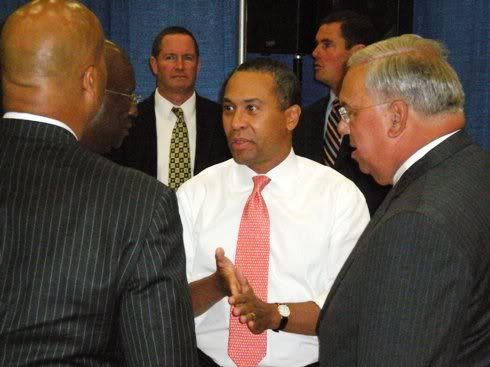 One Chinese woman, who spoke heavily accented English and said she lived in South Boston, begged the Governor for his help to see her daughter, who she said had been taken from her by police in 2001. It was unclear whether the child had been removed from the home by the Department of Social Services, renamed the Department of Children and Families in 2008.
Governor Patrick listened intently to the woman's story, tried to calm her, then instructed his staff (several of whom speak Mandarin Chinese) to figure out how they could help her. (Editor's note: OMB will follow-up with the Governor's Press Office next week to find out exactly how the state helped this woman).
Another woman, Shanta Hocksett of Roxbury, said she was forced out of her job with the state Department of Veterans Affairs. She accused managers there of insisting she lie in order to cover up unprofessional behavior on the part of some of her co-workers. The Governor put his microphone down and spent a few minutes quietly consoling her. He called her "brave" for standing up in public to speak out about her situation.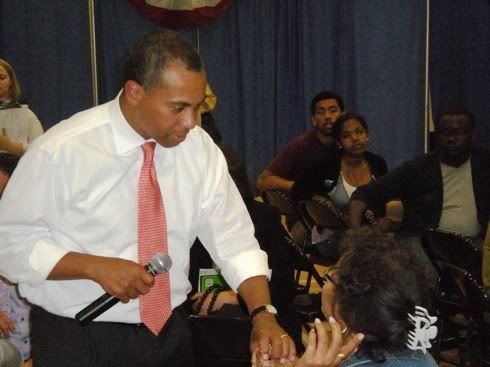 Wearing a crisp white shirt with the sleeves rolled up, the Governor looked ready to get his hands dirty and answer tough questions about state policy. But when challenged by several questioners, he seemed to take an approach of deflecting questions rather than stating his opinion for or against.
Deborah Lapidus of Cambridge asked whether or not Patrick would commit his administration to stop spending "hundreds of thousands of dollars on bottled water that is costly to taxpayers, wasteful, and undermines people's confidence in public water systems." After asking "who's buying this water," Patrick joked, "how come none of it has found its way to the Governor's office?"
Lapidus pressed the Governor to replicate in Massachusetts, an executive order signed by New York Governor David Paterson, banning the use of state funds to purchase bottled water in that state. Following sustained applause from audience members in support of such an order, Patrick said "the answer is maybe, I guess, you know, there are two sides to every story. I'd be interested to hear if somebody, for example, thinks that the piping system in the 200 year old Statehouse yields the same cleanliness…"
Conceding that bottled water is "more expensive than gasoline," Patrick agreed to consider the proposal to stop buying bottled water.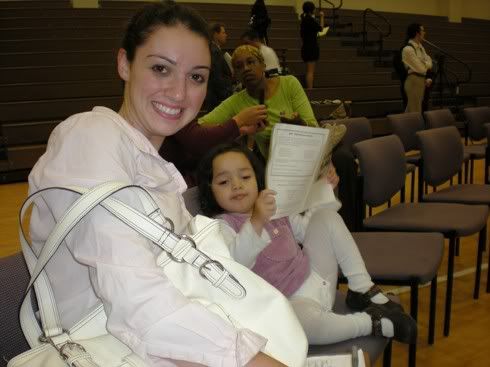 Another woman, Deonna from the South End, told the Governor that she and her husband – a union carpenter - had both been laid off recently and were collecting unemployment benefits. She was critical of unions that allow out of state workers to have construction jobs that otherwise would have gone to local workers. She said the union put her husband on a waiting list but that he hadn't been called.
When Patrick asked: "what would you like me to do?" Deonna responded "well, especially for the men of color in this community that want to work and can't find jobs, I think there should be a representation of at least some of the men of color in this community that want to work." "Do you think I should I give the union a call?" Patrick asked. "Definitely," and she proceeded to give the Governor her husband's name. Patrick said he would call the union.
OMB Audio: Deonna, South End resident
28 Express Bus
Among the issues that drew many residents to the Reggie Lewis Athletic Center, - one of scores of public meetings the administration has been sponsoring around the state – are proposed changes to MBTA service along Blue Hill Avenue in Dorchester, Roxbury, and Mattapan.
The "T" and the state Executive Office of Transportation plan to build what they are calling a "Bus Rapid Transit System" down the center of Blue Hill Avenue. The proposed Bus way – dubbed the 28 Express or "28X" after the current route 28 bus - would connect Mattapan Station on the MBTA red line to Ruggles on the orange line. Some residents have expressed opposition because of the disruptions, they say, such a project would bring.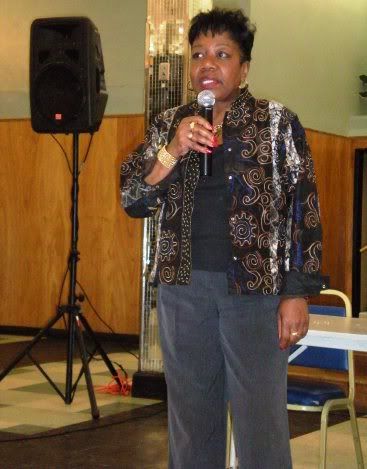 At a public forum held on July 15th at Kingdom Hall in Dorchester and organized by State Representative Gloria Fox, skepticism towards the project ran high. Criticism centered on the loss of trees and residential and commercial parking and questions regarding the number and location of current bus stops to be eliminated.
Boston legislators and city councilors in attendance included State Representatives Willie Mae Allen, Linda Dorcena-Forry, Liz Malia, Marie St. Fleur, State Senator Sonia Chang-Diaz, and City Councilors Chuck Turner, Charles Yancey, and Sam Yoon. Not all of the elected officials expressed their opinion about the 28X bus project.
Representative St. Fleur noted that state officials can't resist the opportunity to build the bus project using millions of so-called stimulus dollars available through the federal American Recovery and Reinvestment Act. "Unfortunately, whether we like it or not, our state operates with buckets of money," said St. Fleur, referring to the federal grants.
"And in that stimulus money, there's a hundred and seventeen million dollars which they've targeted to do this Route 28X."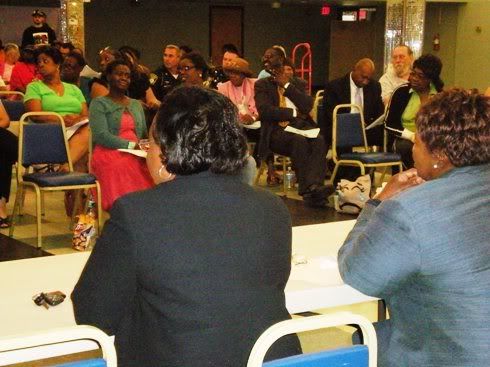 In the Executive Office of Transportation's promotional materials for the new bus project, officials say "this initiative will radically transform existing MBTA service in a dense corridor of Boston, helping to spur economic development and improving the rider experience for neighborhoods traditionally underserved by rapid transit.
"Importantly, this initiative responds directly to public requests for better bus service…"
Residents and local activists at both the Kingdom Hall and Reggie Lewis Athletic Center town hall meetings said years of waiting for the MBTA and the state to keep promises on transportation improvements had fostered a sense of distrust amongst neighborhood residents.
Compounding local criticism, said Rep. St. Fleur, are state official's priorities she said skew in favor of drivers and against users of mass transportation to and from and within the city.
Describing the actions of state transportation officials and legislators from outside of Boston, St. Fleur told the audience at Kingdom Hall that her biggest concern was the more than $100 Million debt faced by the MBTA. That debt remains an MBTA responsibility, despite changes in the new transportation reform package signed recently by Governor Patrick which transferred debt off the books of the Turnpike Authority, shielding drivers from toll hikes.
No such protection from MBTA fare hikes exists for city residents, pointed out St. Fleur.
OMB Audio: State Representative Marie St. Fleur
During the Governor's Town Hall forum, Barbara Crutchlow of Mattapan, related to Patrick how four years of meetings with MBTA officials had not resulted in sufficient improvements in the quality of the bus and trolley platform in Mattapan Square. She described an area with "very few lights, [and] no signage.
"And on May 26th, when Secretary [of the Executive Office Transportation, James] Aloisi came I gave him the pictures. Now we have sandwich boards that tell us where the buses are." Crutchlow, a member of a neighborhood task force said residents asked for an enclosed waiting area for bus riders to use, especially in the winter, but were given bus shelters open on both ends and no roof. Heaters installed at one end, she said, were just wasting energy instead of providing comfort.
She was critical of the 28X project as well, saying that the proposed new buses were too large to be driven in and out of the current platform area.
Governor Patrick, after hearing Ms. Crutchlow's repeated demands for a station said "I just got here," indicating his administration just hadn't had enough time to tackle all these problems. He added that "the community is not going to get 28X, unless the community wants 28X, it's as simple as that. It's not going to happen."
Secretary Aloisi, in attendance at the forum, said "Barbara's right, Mattapan Station, someone had the cockamamie idea of putting a heater like you would put in a hotel in a shelter that's open to the air. It's crazy. The status quo is unacceptable. We're going to fix those shelters.
"On 28X," Aloisi added emphatically, "we hear all the time about downtown projects that cost billions of dollars. What we're doing here…is to bring a hundred million plus [dollars] into a neighborhood that has been overlooked and underserved. There's no reason people should have the 28 bus not be on time, the 28 bus be dirty, the 23 bus not be on time and the idea here was to lift that experience up, so people don't believe that using the bus is a second class way of public transportation. It should be a first class way."
Secretary Aloisi, who also Chairs the MBTA Board of Directors, then directed his comments to Governor Patrick and said his office "would not allow fares to go up, until we can announce that we are indentifying specific bus routes - and the 28 and the 23 will be on that list - that we can make significant improvements on using stimulus money.
Because if we don't show you the respect of getting it right, there's no reason we should have credibility when we come out to you and ask you to put your hand in you pocket."
OMB Audio: MA Transportation Secretary James Aloisi, Jr.
It was announced that additional public meetings on transportation will be held on Monday July 27 at the Mattapan branch of the Boston Public Library at 6:00pm and on Wednesday July 29 also at 6:00pm at the Grove Hall Community Center.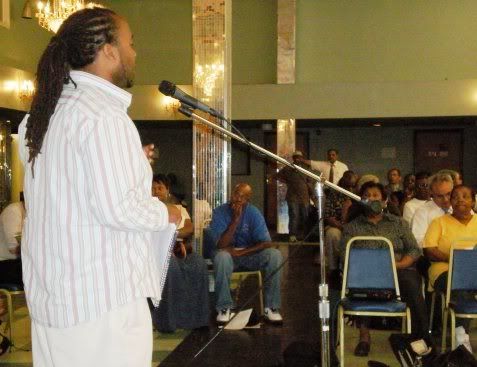 At the earlier town meeting, at Kingdom Hall in Dorchester, a few people expressed support for the proposed Blue Hill Avenue Bus way. Haris Hardaway, of the Morton Street Board of Commerce said he understood that some parking along the Avenue would be lost. But he asked residents to consider future generations and the "green" consequences of replacing cars with low carbon emission buses.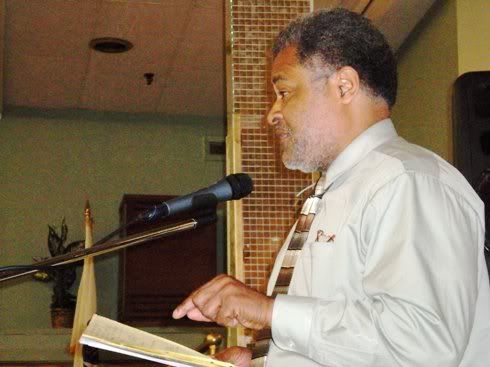 However, Bob Tyrell of the Washington Street Corridor Association told the gathered legislators that "the community has made it very clear, that we don't want the center median strip of that street torn up for a bus lane. As an alternative," he added, "what we've said is, we want a combination of both express service and local service."
OMB Audio: Haris Hardaway and Bob Tyrell
"I need a job…"
Among the challenges discussed in the gymnasium of the Reggie Lewis Center on Thursday, how to help people suffering from unemployment and cuts in state services, was very much on people's minds.
Community member Lawrence Dugan, a former inmate, added it is doubly difficult for those with criminal records to find work. "I left the prison, and when I left the prison, they told me 'to sin no more.' This was 15 years ago. So now, [I'm] in a place where I need a job. So now I'm saying about the CORI reform [criminal offender record information system] 'let's stop talking and let's do something.'"
Governor Patrick responded by noting a CORI reform bill his administration has filed in the legislature this year and called on people to attend a public hearing on Monday July 27 at 1:00pm in the State House Gardner Auditorium.
"I filed one [a CORI reform bill] in the last session and it didn't come out of committee before the session finished, but we're gonna get it this time. And I think we have some momentum but you have to show up. Because it is one thing for us to talk about the policy reasons around CORI reform…but the most compelling thing is personal stories."
The same might be said of these town hall meetings.
OMB Audio: Lawrence Dugan and Governor Deval Patrick
Photographs by Dave Goodman
Bookmark/Search this post with: